Travis Rudder, a man who was accused of murder and other crimes was gunned down execution-style early yesterday morning.
The police said that shots were discharged through the bedroom window of the residence of miner Rudder, 26 years, of Nandy Park, East Bank Demerara, hitting him and his fiancé Mawanza Gill and 18-month-old son Travic Rudder.
They were taken to the hospital where Travis Rudder was pronounced dead on arrival, while Gill and Travic Rudder were admitted. Investigations are in progress.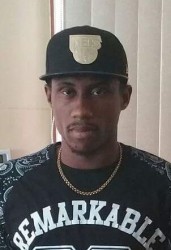 Stabroek News understands that at about 1:15am, gunmen swept into the man's yard at Lindley Avenue, Nandy Park, and riddled Rudder, his girlfriend and his son with bullets. His family was not in a position to speak yesterday.
Sources say the house was blasted with bullets for about 15 minutes and the baby was shot several times. Travis Rudder was shot in his abdomen, right elbow, ankle, groin and foot. Gill was shot seven times in her legs, as a result she sustained several broken bones.
According to reports, Rudder died on the spot and he was lying on top of his baby trying to shield him. His girlfriend is currently in a stable condition and the baby is critical.
Sources say when the shoot-out was over, the police recovered 26 spent shells from the scene. Stabroek News understands that the police did not arrive on the scene quickly enough despite several attempts to contact them.
Persons in the area had to transport the police from the Providence Police Station to the scene. This is a practice that has been complained about for many years.
Stabroek News was told that two attempts were made on Rudder's life before. Last year December, an attempt was made on his life and last month another attempt was made. Sources said men would stake out Rudder's place and wait for him to return to his residence at Nandy Park. One source said men would usually linger in the area and on several occasions they lobbed incendiary devices at his home. The source said the men burned his car several months ago.
Rudder was found not guilty of the murder of his then 14-year-old girlfriend Donnis King in 2011. He was charged with the murder of a cooking gas delivery-man, the attempted murder of Toney Williams, an ex-policeman, armed robbery, and unlawful possession of a firearm.
Around the Web