The Mayor and City Council of Georgetown (M&CC) has asked the City Constabulary, which is conducting investigations into alleged illegalities by the Town Clerk to conclude the activity by July 6, when her annual leave ends.
The council had previously stated in a press release that Acting Town Clerk Carol Sooba had been asked to proceed on administrative leave. However, Mayor Hamilton Green confirmed to Stabroek News yesterday that she was in fact on vacation. She will, he said, be asked to proceed on administrative leave if the investigation launched into her activities is not concluded by July 6.
However, Chief Constable Andrew Foo, speaking with Stabroek News yesterday, said he could not decisively state when the investigation would be concluded. "There are several matters being looked into and given the number of individuals who have to make statements and the fact we do not wish to rush this investigation, it will take some time," he said.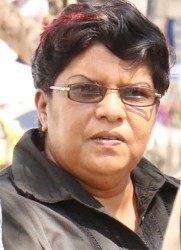 No matter the delay, the Mayor conveyed his belief that Sooba will not be returning. "The council is convinced that she won't be back at all," he said.
He further explained that one of the issues which will be investigated is the original conditions of Sooba's employment. Sooba was originally employed as the council's legal officer, a job for which the Mayor believes she was not qualified. "The qualifications she claimed to have were never presented and they do not qualify her for the post," he explained.
It has been previously reported that Sooba claimed to possess a Certificate in Managerial Law from the Institute of Applied and Commercial Education and she has been reading for a Degree in Law since 2006 at the University of Guyana.
Meanwhile, City Treasurer Ron McCalmon is still on the job, though, according to the Mayor, "The council is not convinced that all of his actions were at the behest of Sooba." A motion passed last year had called for both Sooba and McCalmon to proceed on leave to facilitate investigations into their handling of the city's finances.
In related news for the first time in 10 years the M&CC has an internal auditor.
Omodele Newton was introduced at yesterday's statutory meeting. Newton explained to Stabroek News that her duties include generally examining the internal financial procedures of the city, training staff and conducting any special investigations requested by the council's financial committee to which she reports.
According to Newton, she has not been asked to conduct an investigation into the actions of Sooba.
Meantime, legal actions instituted by Sooba, which were not sanctioned by the M&CC, are to be withdrawn.
This is according to a motion approved by the majority at the M&CC's statutory meeting on May 25, 2015.
The motion, which was moved by Councillor Ranwell Jordon and seconded by Councillor Ahmad called for "all legal matters initiated by Sooba in whatever capacity that impacts on any officer or the M&CC which were not sanctioned by the M&CC be withdrawn."
To this end the council has asked all legal counsel associated with the city including Sooba's lawyer Roysdale Forde to submit a list of actions instituted by the acting town clerk. It was on that same day that a motion was passed to have Sooba proceed on 42 days' vacation to facilitate a forensic investigation into a number of alleged illegalities and improprieties.
Around the Web