Minister of Public Infra-structure David Patterson has begun the process of ensuring qualified contractors for public works and he has signalled a tough approach on poor work and delays.
The new APNU+AFC government has announced plans to reconstitute the National Procurement and Tender Administration Board (NPTAB). The NPTAB presides over billions of dollars worth of contracts each year and critics and political parties have questioned the basis for key awards in the past. It was also felt that the previous government, through evaluation committees, had an undue influence on the process.
In an interview with Stabroek News, Patterson contended that the level of favouritism that was evident under the previous administration was detrimental to providing the state with quality infrastructural work that lasted.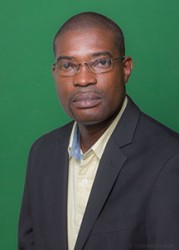 The Minister, a chartered quantity surveyor, said that while the government is looking to revise the current structure of the NPTAB, he plans to also compile facts on well-known contractors who have been used in the past.
"I have also asked my ministry to compile a current [list of], I mean I am not going too far back, contractors who would have done work for us. Ones that would have had cost overruns and time overruns so that we could, going forward, monitor them," Patterson stated. He pledged that "going ahead everyone will get an even opportunity to tender."
Patterson said the national tender board should be privy to contractors who have been delinquent in the past. "I intend to say to the tender board that Tom Jones in the last year… had ten contracts with us, eight of the ten were delivered late, eight of the ten or five of the ten ran over budget, were late and over budget so please consider strongly these matters when Tom Jones submits a request to prequalify cause it's no use throwing good taxpayers' money after bad contractors," he said.
The blacklisting of delinquent contractors has been raised for a number of years as, on many occasions, contractors who had done poor work reappeared with new and sometimes bigger contracts.
The minister said "You cannot blacklist contractors, but I will be trying my best to blacklist contractors. I will probably say to the new tender board that I have an objection."
Patterson spoke about corruption, stating that ministry staff was informed that the "same pool" of contractors would not be the only ones utilized. "I have zero tolerance for corruption, if this job does not pay you enough to work here I have said to all the employees you may as well leave. This is not a job to supplement their income," he told Stabroek News.
He said that a list of approximately 40 contractors has floated around and the same number has been allowed to bid while others have not had opportunities in the past.
The minister told Stabroek News that experience mattered, but also said that the prequalification process was also there to ensure that capable persons were given a shot and if experience was one of the major criteria it would be reflected in the process.
The minister added that the performance bond process was also going to come under severe scrutiny by his ministry. He said that the ministry will not be repeating past experience or having to fight institutions over performance bonds should contractors fail to meet their obligation.
"They [the contractors] have bonds but the bonds are never enforced. Then when they attempted to enforce it the financing institution has resisted paying the bond and I said that from the first day here that I will also write the financial institutions to advise them that we would not be accepting bonds from you because you are not willing to stick and comply with the bonds you have issued," Patterson said.
He charged that many of the performance bond issuers were "fly-by-night agencies." Patterson said that tapping the performance bonds would continue for contractors who fell short of their obligations. However the financing institutions would also need to comply with their obligations.
The previous PPP/C administration had been notorious for not enforcing performance bonds on several major contracts. It had also appeared that the placing of bonds had been done without their being any intention of utilising them. Attempts to apply some of the bonds led to legal action by the financing institution.
As it relates to contracting for public projects, critics have said that there is no engineer's act here which would provide the means of registering qualified contractors. It has been charged in the past that many unqualified persons have been able to secure contracts and substandard work has been done.
The minister noted that in the overhauling of the procurement process, accreditation would also become an issue and that the "grandfather clause" would need to be studied and implemented. He said that many contractors in Guyana have been doing work for years without the usual educational qualifications, however the minister did note that many due to experience are capable and therefore eligible.
Patterson told Stabroek News that he was researching compliance criteria in the region and was looking to ensure Guyanese could move comfortably to find work if they wanted. He said that by the annual contractors' forum in February of 2016, the ministry would have a comprehensive plan which would be more inclusive of the various agencies that would fall under contracting. The minister called for broad-based and inclusive consultations.
Minister of State Joseph Harmon during a recent post-Cabinet press briefing said the current NPTAB will have to go because "that is where the initial award of contracts are made… I am saying to you now that sole sourcing was pervasive in the (last) administration. From small things to big things sole sourcing took place."
The NPTAB attracted controversy over several major selections including the contractor for the proposed Specialty Hospital and the pre-qualification for the supply of drugs to the health system.
Around the Web