Lodge resident Kevin Washington was yesterday sentenced to 48 months in prison after he admitted to robbing a woman of a gold cricket band.
Washington, of Lot 43 Princes Street, Lodge first appeared before Chief Magistrate Priya Sewnarine-Beharry in April and had pleaded not guilty to robbing Porsha Jacobs of one gold cricket band valued $186,000.
The matter was transferred to Court Three of the Georgetown Magistrates' Court for trial. Yesterday, shortly into the commencement of the trial before Magistrate Judy Latchman, Washington indicated his intention of changing his plea to guilty and did so.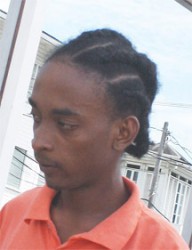 The man first appeared in court on April 2. It was related to the court that Jacobs was in a taxi at the junction of Regent and Alexander streets when Washington approached the vehicle and snatched the gold band off her hand and escaped. He was, however, later allegedly identified by the taxi driver and was arrested and charged.
Before the sentence was imposed, the court heard that Washington was previously charged and convicted for 18 months for a matter of a similar nature.
Washington was unrepresented by counsel while the prosecution was represented by police prosecutor Sean Gonsalves.
Around the Web