The Celina's Atlantic Resort is expanding again and construction work has commenced but the authorities are unaware.
During a visit to the site yesterday, Stabroek News observed ongoing construction and repairs being done to the facilities. A makeshift sand platform was build up from the road so as to make it possible for heavy-duty machinery to get over the seawall to access the construction site. Employees refused to comment.
When asked about the activity at the site recently, Minister of Public Infrastructure David Patterson said that he was not aware of any ongoing construction works but would check into it. Stabroek News was unable to get a comment from junior Minister of Public Infrastructure Annette Ferguson over the past few days on whether permission was granted for the construction activities.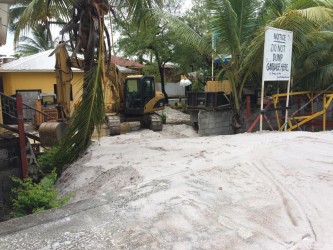 Over the years, numerous questions have been raised as to how permission was granted for construction on this sensitive sea defence reserve. The Celina resort has come in for much criticism by environmentalists as its construction on the environmentally sensitive area poses a risk to sea defences, mangroves and courida plants.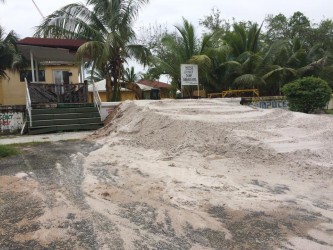 Former Chief Hydraulics Officer and Specialist Engineer for Sea Defences, Malcolm Ali had said that the Celina Atlantic Resort building violates the Sea Defence Act and permission for its construction should not have been granted.
Ali had stated in a letter to Stabroek News that he had designed that section of the sea defence in 1968, following massive erosion of the foreshore. He had explained that where Celina sits, to the north of the seawall next to the Kitty Pump Station, was the grouted boulder slope, below which has built up silt. The Celina building, he said, is built over this silt, which can disappear overnight by erosion, causing the building's foundation to collapse and damaging the seawall.
Ali has said that on account of severe erosion on the East Coast during the late 1960s, Parliament on the advice of he and other engineers in the Hydraulics Division amended the Sea Defence Act, preventing construction of buildings and other structures in several areas of the coast landwards from 50 feet to 1000 feet from the centre line of the sea dam. He had also noted that only in rare cases is permission granted by the Sea Defence Board to build minor structures—for religious purposes—seaward of the sea dam, and the responsibility to remove same during an erosion cycle rests with the owners.
Engineer Bert Carter also previously opined that no one should be allowed to build any structure beyond the seawall, given the potential threat to sea defences while late engineer Melvyn Sankies said he thought the building was an obstruction. He explained that in the case of any emergency or disaster, full access is needed in that area.
Around the Web