Former Public Service Minister Dr. Jennifer Westford who is embroiled in a scheme to transfer several state-owned vehicles into the names of private individuals including herself, has been contacted by police, Crime Chief Wendell Blanhum confirmed yesterday adding that a statement has since been taken from her.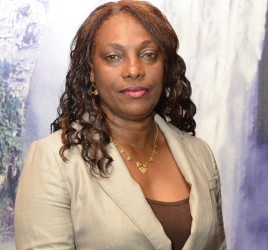 Westford is among five persons whose names are listed on a document sent to the Guyana Revenue Authority (GRA) last month requesting that the transfers be made.
Blanhum said too that Westford is one of three out of the five who have been contacted by investigators. Efforts are presently being made to contact the remaining two, he said.
Additionally, he said that there are several persons outside of the five who have since submitted statements. This newspaper was reliably informed by persons inside the ministry that these additional statements came from persons working in departments within the ministry including the finance section.
Quizzed by Stabroek News, Blanhum assured that the investigators are working but could not commit to a timeframe for when the investigation is likely to be completed. He explained that once complete, a file will be compiled and same would be sent for legal advice.
Westford and her spouse were identified last Friday by President David Granger as being among the persons identified in the matter which is centred around eight vehicles, two of which this newspaper understands have since been returned to the Ministry. A $9M Kia bought in August 2013 is also missing.
In one document dated April 14, 2015, which was addressed to Khurshid Sattaur, Commissioner General of GRA, a request was made for a transfer of registration to Westford, Wayne Walker, Delroy Lewis, Gary Beaton (who is said to be Westford's spouse) and Osbert Mc Pherson. The letter was apparently prepared one month before the general elections but was only dispatched to the GRA on the first working day after Granger was sworn in as president. According to the letter which was seen by this newspaper, two vehicle registration transfers for Walker were sought; one for Lewis; one for Westford; three for Beaton and one for Mc Pherson. The letter was signed by Margaret Cummings for Hydar Ally, the ministry's permanent secretary.
Cummings is one of two persons from the Ministry who have been sent on leave to facilitate the investigation.
Stabroek News attempted yesterday to get a comment from Ally but was unsuccessful. When a call was placed to his office the woman who answered indicated that he was in a meeting. Contact details were requested from the reporter after being informed of the nature of the call but no call from Ally was returned up to press time last evening.
Stabroek News was told that Beaton who is a senior army rank and Mc Pherson who is the Ministry's chief security officer are still on the job. Stabroek News was unable to make contact with them or Walker.
Lewis who is employed at the Ministry as a driver has since come forward professing his innocence. He is currently on leave and is scheduled to return to work on Monday. He went as far as to explain that the vehicle to which his name is being attached is the one he used for work- related purposes. He said the vehicle was returned on June 8th to the ministry, the day he proceeded on his 21 days' vacation leave.
Westford on the other hand has opted to refrain from publicly defending herself, telling this newspaper that she is media shy. Sources close to the PPP/C say that party members are very upset about the scandal.
Based on the information gathered by this newspaper the entire scheme was unearthed when Sattaur wrote to Ally on June 10, 2015 requesting that he reissue the letter requesting the vehicle transfers. Sattaur wrote that the GRA "has the policy of not granting requests for transfers occurring before the new government took office, unless a letter is issued during the current administration." Granger was sworn in as president on May 16.
In a June 15, 2015 response, Ally wrote, "Please be informed that the request for transfer of the vehicles as listed in letter of April 14, 2015 should be withdrawn. I further wish to advise that to the best of my knowledge no documentation relative to the sale of the said vehicles had been seen."
Around the Web