The police believe that they have captured a suspect in the murder of an elderly woman who was found bound and gagged in her Mahaica home last month and will be depending on DNA evidence to link him to that crime scene.
Crime Chief Wendell Blanhum told Stabroek News yesterday that the man was arrested shortly after he would have attacked another elderly woman in the Mahaica area on Sunday. Though that woman was bound and gagged she survived the ordeal.
He explained that during the post-mortem examination on 68-year-old Chandroutie Persaud, "flesh tissue" was found beneath her fingernails, which has been preserved by the police. He said that yesterday police took the suspect for a medical examination and found what appeared to be scratches which are beginning to heal, on his right forearm. Blanhum told this newspaper that samples were taken from the suspect and they will have to undergo DNA testing.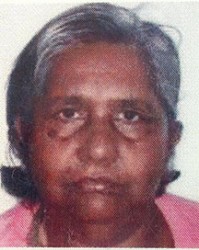 In the meantime, the man remains in custody and is assisting the police with their investigations into Sunday's incident.
Persaud called `Aunty" is believed to have been killed sometime between May 22 and 23. Persaud's body was found in her home at about 5.30 am on May 23 with her hands tied behind her back and her mouth was gagged. An undisclosed amount of cash was reported missing from the home.
The woman and her husband ran a small shop, which is located in front of the house.
Two suspects were arrested in connection with the murder but they were subsequently released.
Around the Web