A man is missing and feared drowned after the boat he was in with his wife and a small child, capsized when it was hit by another boat in the Pomeroon River yesterday.
Orton Benjamin, 47, a farmer of Grant Recess, Lower Pomeroon River has not been seen since the collision which occurred around 8.45 am yesterday.
According to reports, the vessel which collided with Benjamin's boat is owned by the Coastguard, based at the Pomeroon River Mouth.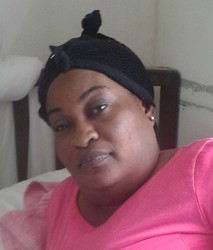 Benjamin's wife, 43-year-old Simone Benjamin has since been admitted to the Oscar Joseph Hospital at Charity, Essequibo Coast with low blood pressure.
Speaking from her hospital bed, the wife of the missing man said that her husband was taking her to school along with a five-year-old relative when the other vessel hit their boat from behind.
Simone Benjamin, who is a teacher at the Liberty Primary School just across the river from where they live, said all she heard was "Blam! And I was under the boat in the water. When I go to raise up I hit my head on the boat. The stern came off and fall in the boat… Our boat had a 15 horse power outboard engine and that fell off too." The woman added that the five-year-old was also knocked overboard, but was unharmed and managed to swim ashore."My brother-in-law lives right next to us and after he heard the impact, he came up and helped us," she added. "The other boat came back and they helped to search but we were not lucky.
After I fell overboard, I did not see back my husband," she lamented.
She said she felt he was hit before he went under.
The woman said she was not seriously injured but her blood pressure was low so she was admitted to the hospital.
Up to press time, Orton Benjamin had not been found.
Police investigations are ongoing.
Around the Web