President David Granger has given a commitment to work closely with the Iwokrama International Centre for Rainforest Conservation and Development, with the aim of restructuring the agenda, following a meeting with the Agency's Head, Dane Gobin.
GINA said that Gobin, along with Conservationist, (Rtd.) Major General Joe Singh, and Minister of Governance, Raphael Trotman were a part of the discussions with the President yesterday at the Ministry of the Presidency.
According to Trotman, the discussion centred on how Government could sustain the centre as it has had some challenges within recent times. GINA reported Trotman as saying that he is of the belief that Guyanese are not fully aware of Iwokrama and have never fully bought into it.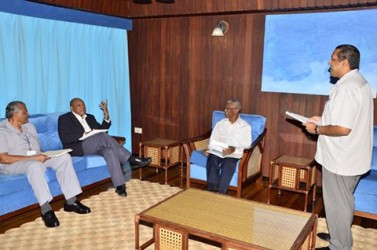 "So the new thrust would be making it part of our patrimony that we can be proud of it, that we would want to visit it, to support it financially, protect and preserve it, so we are excited about the discussions and hopefully a paper will be presented to Cabinet shortly on the way forward", he said.
Iwokrama was announced in 1989 as a million-acre project for sustainable forestry by then President Desmond Hoyte. It was later endorsed by President Cheddi Jagan when he came into power.
The Iwokrama Centre was established by legislation in 1996 to manage the forest area.
Around the Web