All of the state-owned vehicles at the centre of a police probe involving the former public service minister were returned by the end of last week, Minister of State Joseph Harmon said yesterday before disclosing that 28 other vehicles had been transferred to private hands in a single day and this was just a fraction of those that cannot be accounted for.
"We have a bigger amount. That 28 is one day. I have a pile …which will now require the unit [State Asset Recovery Unit] to look at these things carefully and decide how they are going to proceed," he told reporters at his weekly post cabinet press briefing. "And that is why I said to all persons who had government assets to bring them in. I don't want to come after you… We will have to send people after you if you don't."
Stabroek News was told yesterday that vehicles were missing across all of the government ministries and agencies. And based on the evidence gathered so far, the fraudulent acts began as it became clear that the PPP/C had lost last month's general and regional elections.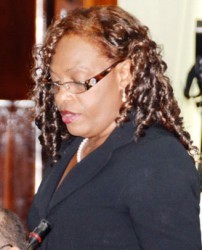 Updating reporters on the current matter being investigated by the police, Harmon said that all eight vehicles in that probe were back in government control by early Saturday morning last. He explained that soon after the issue was made public, three of the vehicles were returned and on Friday night last into Saturday the other five were taken to the Ministry of Presidency.
Former public service minister Dr Jennifer Westford is among five persons whose names were listed on a document sent to the Guyana Revenue Authority (GRA) last month requesting that the transfers be made. There were also accompanying receipts which showed that they had paid cash for the vehicles in questions. It is believed though that the receipts are fakes particularly since they did not look like official government-issued receipts.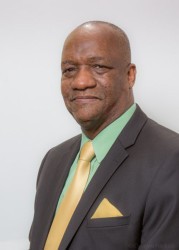 Westford has been mum on the issue, but it has been confirmed that police have taken a statement from her. One of the other persons whose name was listed on the document denied any knowledge of it and made it clear that he did not buy any vehicle owned by the ministry, nor did he have knowledge of any request for a transfer of registration into his name.
Noting his statement "that the government was prepared to grant a limited amnesty to make sure that persons returned these things," Harmon said, "I believe that some people took that very seriously and decided to bring them in."
However, he said that once a police investigation has been launched the outcome has to be awaited.
He said he has documents from officers in the Ministry of Presidency showing that the vehicles were received. "I can't tell you exactly who brought them in but they are all here and that I think is the main thing," he said.
Asked about the $9 million Kia, which was outside of the eight, he said this vehicle was among the three which were returned early. He gave its licence plate number as PSS 500 and said it is black in colour and is being used in the administration at present. That vehicle, this newspaper was told, was bought in August 2013 for Westford to use. This was not the vehicle for which a transfer of registration on her behalf was being sought.
Asked whether some of the vehicles were in derelict condition, he said, "all except one drove in on their own steam."
28 and counting
Harmon told reporters that there is a pile of vehicles that cannot be accounted for, even as he stated that their recovery will be the responsibility of the State Asset Recovery Unit which falls under the control of Presidential Advisor, Professor Clive Thomas.
He informed that government is in the process of appointing this unit and the persons who will be functioning in this unit are being assembled. "Already I started receiving calls from people all over the world who want to help; people who know where things are. In fact, every morning you get a report about two vehicles gone somewhere and they take off the number plate and somebody throw canvas over it. But we will get to all of them," he said.
According to Harmon, government has information on vehicles that belong to the state that were transferred to individuals including the 28 transfers which occurred in one day in May.
Margaret Cummings, one of two employees from the Public Service Ministry sent on leave to facilitate the probe, had signed several documents including the one sent to GRA on behalf of Permanent Secretary Hydar Ally.
Asked about Ally yesterday, Harmon said that while he has "left" he has been asked to remain in office until the end of the month to ensure a smooth handover. Ally would have reached the age of retirement. Meanwhile, at a PPP/C press conference yesterday, party executive Gail Teixeira refrained from commenting on the vehicle issue and referred all questions to General Secretary Clement Rohee.
Asked how the party was handling the matter internally, she said, "I can't answer that right now because I don't have all the details myself so I would ask [you] to hold that question for when the GS has his Monday meetings."
Asked later whether the issue was being discussed by the party she said, "I didn't say it wasn't being discussed, I am just saying that I am not in a position to comment on it today here."
With regard to advice as to how the matter should be dealt with, Teixeira responded that it has to be investigated to assess whether there is any merit in what is being alleged and then based on the findings, appropriate action should be taken. "As you know, many cases even in the courts are thrown out on technicalities and so one has to make sure that the investigation is done in accordance with rules, protocol and so I would expect that the government will do that. Although some of their behaviour show they are not willing to do that," she said.
Responding to a question on the party's position if criminal charges are recommended, she said that generally the PPP has always said, "Let the law take its course."
Around the Web