The man who was fingered as having been involved in an armed robbery and having in his possession the weapon used in the murder of Saleem Azeez Abdool was yesterday freed of the unlawful possession of firearm and ammunition charges after the prosecution failed to prove its case.
Desmond Williams, 26, of 1267 'B' Field, Sophia, was charged on October 22, 2014, with being in possession of 11 rounds of .32 ammunition and a .32 Taurus semi-automatic pistol without being the holder of a firearm licence.
He had denied the charges and was remanded to prison.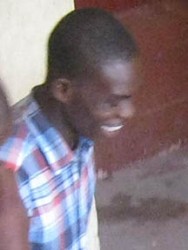 At yesterday's hearing, Attorney Onassis Grenville who represented the accused indicated in her submission that the prosecution failed to make out a prima facie case against Williams.
Grenville further expounded that in the prosecution's submission, it failed to establish each element of the offence with which the defendant was charged.
The lawyer also indicated that the prosecution was required to clearly establish that the defendant was in possession of the firearm and ammunition.
Such evidence was necessary and should have been proven through the testimony of an expert, Grenville added.
The attorney further noted that there was no such evidence before the court while she further pointed out that no ballistics report had been tendered and admitted into evidence.
In addition, Grenville contended that there was no evidence to satisfy the court that what was allegedly found by the police was indeed the firearm and ammunition mentioned in the charge.
"The critical element of the offence was not produced nor established," the lawyer argued.
Prosecutor Kerry Bostwick had made an application for the court to go to the home of the ballistics expert, Corporal Sampson to take the evidence after he was absent repeatedly during the hearings, owing to ailing health.
That application was denied and Magistrate Judy Latchman, called upon the prosecutor to close its case.
The magistrate, after listening to the submissions, stated that the prosecution failed to prove its case, thus the charges were dismissed.
Four men Glenroy Griffith, 21; Julian Mack, 33; Gerald Warde and Justin Griffith, 22, were charged with the murder of Saleem Azeez Abdool in furtherance of a robbery of an undisclosed amount of cash.
Police had said that Williams was in possession of the said firearm which was used in the murder of Abdool.
Glenroy Griffith, Mack and Warde were recently committed to stand trial for murder, while Justin Griffith was freed after it was found that there was insufficient evidence to connect him with the murder.
Meanwhile, Williams had been charged along with Enrico Inniss with the armed robbery of businessman Oudit Seenarain in 2010.
Around the Web