A father of two, who had been on remand since January on charges of unlawful possession of a firearm and ammunition was yesterday found guilty and sentenced to prison for one year on each charge.
Timothy Taylor, 20, of Timehri Fire Service Area, East Bank Demerara, was charged in January with being in possession of a .32 revolver with three matching rounds, while he was not the holder of a valid firearm licence.
Magistrate Ann Mc Lennan, presiding in Court 2, of the Georgetown Magistrates' Courts, found the defendant guilty.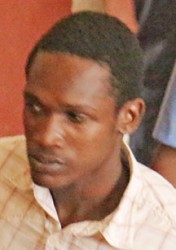 Before handing down the sentence the magistrate reminded the defendant that the prosecution was required to prove that he had physical custody and knowledge of the items. In addition, the magistrate explained that the prosecution was also required to prove that the items the police found were indeed a firearm and ammunition, as constituted under the Firearms Act of the Laws of Guyana.
The investigations revealed proof of the items mentioned, while there was no dispute about the evidence by the police, showing ownership of the items, since the firearm was discovered in the crotch of the defendant, the magistrate said.
She further referred to Taylor's own admission of knowledge of the weapon to the police, when he stated, "Is red man give me."
Taylor's defence was not believed by the court and the magistrate said that "it was a story made up."
In his defence Taylor had accused the police of beating him and forcing him to sign a statement.
The defendant's attorney Collis Baveghems had argued that the prosecution's evidence was inconsistent and unreliable, but the magistrate informed the court that the prosecution had proven its case beyond a reasonable doubt.
At the end of the prosecution's case, what was found and analyzed, satisfied the court that the chain of custody was not broken, while the element of the offence proved the defendant guilty as charged, the magistrate declared.
Defence counsel then urged the court to use its discretion and show mercy in its sentencing, noting that it is the first offence for which Taylor was found guilty.
The defendant is also the father of two minor children, the lawyer said.
The magistrate then told the defendant that after she considered all of the mitigating factors, including the amount of time he was on remand, coupled with the circumstances of him being arrested and charged with unlawful possession, he will be sentenced to one year in jail for being in possession of the weapon and another year for being in possession of the ammunition.
But the defendant will only spend one year behind bars, since the sentences will run concurrently.
Around the Web