The body of 47-year-old farmer Orton Benjamin of Grant Recess, Lower Pomeroon River was yesterday discovered in the wee hours of the morning by his relatives who had been searching for him since Wednesday.
A Coastguard vessel had collided with Benjamin's boat while he was taking his wife, a teacher, to work around 8.45 am on Wednesday. The couple also had a five-year-old relative in the boat, who managed to swim ashore after the collision and escaped unhurt.
The man's wife, Simone Benjamin, was rescued and subsequently admitted to the Oscar Joseph Hospital at Charity. Though she was unhurt, it had been found that her blood pressure was low. Donna Garraway, the sister-in-law of the dead man said that his body was found around 2 am yesterday.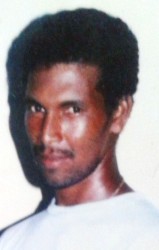 "Relatives of Orton found the body at Diamond, Lower Pomeroon River early this morning [Friday]. People who went to the wake were going home and they saw the body floating and they alerted other family and so the body was picked up," she said.
Noting that they had been searching since Wednesday, she said that the body was taken to the Suddie Hospital Mortuary. "A post-mortem examination was done and we were told that he died from multiple injuries," she said.
Benjamin's wife had said on Saturday that she believed he had hit his head on impact, prior to falling into the water.
Garraway said that Benjamin will be buried today.
Around the Web