The Giftland Mall and the long-awaited Caribbean Cinemas chain will be officially launched on Thursday for special invitees and will open to the general public on Friday.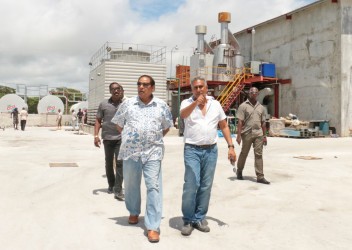 According to Prime Minister Moses Nagamootoo, who toured the facility on Saturday, the mall will be the greatest boost to Guyana's commerce in the 53 years of his public life. He was enthusiastic about the opening and said that the mall should serve as a boon to all businesses and he hopes that other businesspersons will step up their game.
Minister of Public Infrastructure David Patterson, who also toured the facility, said that he loves the fact that the mall is not in the centre of Georgetown.
He said that he believes that the mall will be successful while adding that similar projects should be tackled by other businesspersons and they should not wait on foreigners to come and invest in the country.
According to the minister, he was told that the banks have a lot of liquidity that are not being utilised by businesspersons and they should try to seize the opportunity and invest. Compared to the controversial Marriott Hotel which was built using taxpayers money, Patterson said, the Giftland Mall is a better investment for Guyana since it caters for locals.
According to him, the Marriott caters for foreigners and he is not sure "where they will come from." Patterson said that half of the money used to build the Marriott could have created another mall. The Marriott Hotel cost $US58M to construct.
Meantime, Caribbean Cinemas will also throw open its doors at the mall. The cinema has eight screens each of which measures 23×40 feet and the facility has the capacity to hold 1,270 persons. The cinema plans to have a diverse film programming that will cater to all sections of the population. Some of the films that will be shown are traditional Hollywood blockbusters, children films and dramas.
The movies that will be showing this Friday are Insidious 3, Jurassic World 3D, Spy, Ted 2, Inside Out 3D and Terminator Genisys.
Caribbean Cinema is a family-owned business that was founded in 1968 in San Juan, Puerto Rico. The company has cinemas in ten Caribbean countries.
"Good things are worth waiting for," Roy Beepat, the president of the Giftland Mall told reporters. The mall had several earlier opening dates which had to be postponed because of a number of issues. Beepat said the mall's power-plant had to be fully functioning, since a mall of this magnitude cannot be powered by the Guyana Power and Light.
Beepat said 53% of the mall will be open on Friday. The facility will be opened in three phases, he stated while adding that a lot of stores will be dependent on parking and the mall can only supply 500 parking spots at this time. Their goal is 1500 parking spots. According to company officials, the mall expects to service about 20,000 people per day.
Around the Web