The three suspects who were taken into custody in connection with the murder of Port Mourant businessman Rampersaud Shivcharan have been released on station bail.
A senior police source confirmed yesterday that the men were released owing to a lack of evidence. However, the investigations will continue in a different direction in view of speculation surrounding the businessman's death.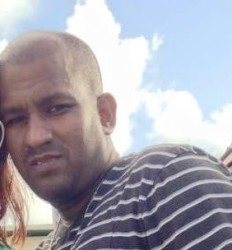 Shivcharan called 'Rakesh,' 41, of Lot 1 C Ankerville, Port Mourant, Corentyne, was shot dead sometime around 7 pm, by three men who invaded his shop. A post-mortem examination performed on Shivcharan, by Forensic Pathologist Dr. Vivekanand Bridgemohan at the Port Mourant hospital mortuary, gave the cause of death as shock and haemorrhage due to a gunshot wound. The autopsy also proved that Shivcharan was shot once. According to the police source, he was hit directly to the region of his heart.
On Sunday night, the three men had approached Shivcharan while he was tending to a customer and attempted to go beyond the customer restricted area. Shivcharan tried to stop them and in the ensuing struggle was shot to his chest. The men then escaped.
Shivcharan, who was co-proprietor of Debbie's Grocery and Wholesale Liquor shop, had returned to Guyana some six years ago and opened the business with his wife Debbie Rampersaud.
According to information reaching this newspaper, Shivcharan is expected to be laid to rest today. He is survived by his three children, wife, parents and siblings.
Around the Web