The PPP/C has settled its list of 32 MPs for Parliament and former President Bharrat Jagdeo is on it, making him the likeliest choice for Leader of the Opposition.
As he had signalled to Stabroek News on Monday, former President Donald Ramotar is not on the list neither is his surprise running mate at the 2015 elections, Elisabeth Harper.
In a statement this afternoon, the PPP/C said it is still undecided on when it will return to Parliament.
Others on its list include former ministers Anil Nandlall, Priya Manickchand, Irfaan Ali, Dr Jennifer Westford, Dr Bheri Ramsaran, Dr Frank Anthony, Bishop Juan Edghill and Dr Leslie Ramsammy. General Secretary Clement Rohee and senior party executive Gail Teixeira are also on. Westford is under a cloud due to an investigation into the attempted transfer of state vehicles. Ramsaran was disgraced and sacked as Health Minister by Ramotar over the abuse of human rights activist Sherlina Nageer. Ironically, he had been replaced by Westford,
Former Foreign Affairs Minister Carolyn Rodrigues-Birkett has declined the offer to return to Parliament as she will be taking up work assignments overseas. Former Finance Minister Dr Ashni Singh has also declined. His explanation in the PPP/C statement said:
''…I wish to thank the leadership of the PPP/C for inviting me to take up a seat among its 32 Members of Parliament, and for accommodating my reasons for declining that offer. As I explained, my personal and other commitments would make it difficult for me to discharge the obligations of a PPP/C MP in the manner I would like to at the current time. I remain firmly committed to the PPP/C, and I continue to be available to be of service to the Party in other capacities''.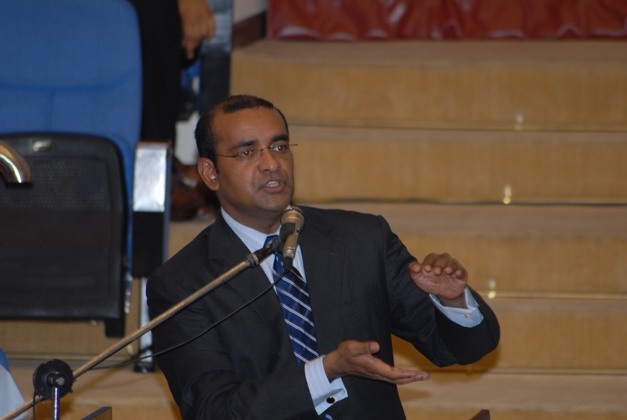 The list follows:
GEOGRAPHICAL CONSTITUENCY
| | |
| --- | --- |
| Electoral District | Name of Candidate extracted |
| 1 | CROAL, COLLIN DAVID |
| 2 | DAMON, CARNEL |
| 3 | ALI MOHAMED IRFAAN |
| 3 | CHAND KOMAL |
| 4 | NANDLALL MOHABIR |
| 4 | NEENDKUMAR |
| 4 | PERSAUD GILLIAN ROSEMARIE |
| 5 | MANICKCHAND PRIYA DEVI |
| 6 | MAHADEO VISHWA DEVA BUDHRAM |
| 6 | MUSTAPHA ZULFIKAR |
| 7 | WESTFORD JENNIFER REGINALDA ANN |
| 9 | CHARLIE ALISTER SATURNIUS |
NATIONAL TOP UP
#
Name of Candidate extracted
1
ANAMAYAH ADRIAN VENKATASUMA
2
ANTHONY FRANK CHRISTOPHER
STANISLAUS
3
CHANDARPAL INDRANIE
4
DHARAMLALL NIGEL DEONARINE
5
EDGHILL JUAN ANTHONY
6
HAMILTON JOSEPH LINDEN
FITZCLARENCE
7
JAGAN CLIVE RAMESH
8
JAGDEO BHARRAT
9
LUMUMBA ODINGA
10
PERSAUD GANGA
11
PERSAUD VINDHYA VASINI
HARSHKUMARI
12
RAMSARAN BHERI SYGMOND
13
RAMSON CHARLES SHIVA
14
ROHEE CLEMENT JAMES
15
SEERAJ DHARAMKUMAR
16
SELMAN AFRICO ARCHIBALD
17
SUKHAI PAULINE ROSE ANN
18
TEIXEIRA GAIL
19
RAMSAMMY LESLIE SATRUKEN
Around the Web