While saying that women too often undervalue themselves, First Lady Sandra Granger yesterday endorsed efforts aimed at helping women and girls fulfilling their potential.
She was at the time speaking at the annual Women's Empowerment Conference, held at the Egbert Benjamin Centre at Mackenzie, Linden, where she saluted Guyanese women for their sterling
contribution to national development, through the diverse roles that play in moulding their families, communities and the nation at large, a statement from the Ministry of the Presidency said.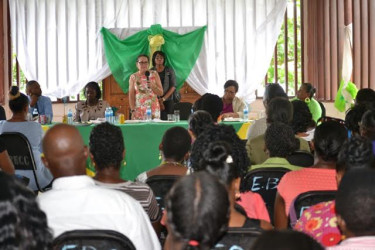 The conference, which was held under the theme, "Knowing your purpose," was organised by the Women of Mission International (WOMI), a non-profit organisation based in the United States. WOMI's aim is to develop social, economic, and educational development programmes for women of all ages, thereby providing them with necessary resources to make them self-sufficient.
According to the statement, the First Lady spoke of young Guyanese women who died at the hands of their partners long before they were able to realise their true purpose and reach their full potential as well as those women who are lured into prostitution under false promises of employment and teen mothers who are forced to drop out of school.
She noted that nearly 25% of babies born in Guyana are for women under the age of 19 and 1% of that amount is for girls under the age of 16. She further noted that 88 girls under the age of 15 delivered babies last year—a clear indication of the level of statutory rape being committed. These girls, she said, are made to feel that their lives lack value and purpose.
"I believe that conferences such as this and the work of organisations such as WOMI can bring about the changes we need in our society by helping girls and women achieve their full potential… Every life has purpose and every life has value. Too often we as women undervalue ourselves," Mrs. Granger was quoted as saying.
Meanwhile, during a panel discussion, Member of Parliament Valerie Patterson spoke on entrepreneurship opportunities and financing for women. She said that women can be just as successful as their male counterparts in any field they choose. Patterson pointed out that in Linden more women are heading businesses but added that there is still a huge equality gap that must be bridged, since women have to overcome the challenge of balancing business and family. "The world needs women entrepreneurs and we must provide the necessary tools and resources to ensure that women-led enterprises flourish," Patterson said.
According to the statement, new Regional Chairman Rennis Morian spoke out against the bureaucracy that prevents women from branching off as entrepreneurs and assured of the support of the Region 10 Regional Democratic Council to prioritise issues affecting women.
Lurlene Nestor, a former parliamentarian, spoke on women in politics and outlined the challenges and sacrifices that they are forced to make in order to take up roles in the political arena. Nevertheless, she urged women to become more active in politics so that they can be part of the decision-making process.
The conference also addressed domestic violence. Carwyn Holland, who was part of the panel, said that two out of three afro-Guyanese women in Guyana experience physical violence from their partners. He also stressed the need for the Guyana Police Force to be more proactive and professional when dealing with reports of domestic violence.
Around the Web