History was made at CARICOM headquarters, Georgetown on July 30th when Secretary-General of the Caribbean Community Irwin LaRocque accepted the credentials of the first ever Ambassador of the Vatican to the Community.
In welcoming Archbishop Nicola Girasoli, Plenipotentiary Representative of the Holy See, a CARICOM press release said that the Secretary-General stated that the accreditation provided an avenue for the Vatican and CARICOM to work together on common issues of concern.
Archbishop Girasoli said the establishment of diplomatic relations brought a "new chapter" in the relations between the Holy See and CARICOM.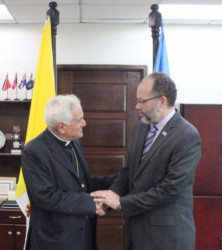 The release said that LaRocque, voiced "deep appreciation" for the work of religious bodies in the Community's development.
He further noted Pope Francis' emphasis on the issues of peace, equality, inclusion and responsibility resonated with CARICOM which itself was striving "to build a secure, equitable and viable Community for all its people".
Secretary-General LaRocque said that the courageous actions and statements by Pope Francis, particularly with respect to climate change, were most welcome to CARICOM's Member States "which are bearing the brunt of its effects, although hardly contributing to its causes."
The release said that LaRocque expressed his agreement with the Pope that without peace and stability, the benefits of the three international processes of 2015: Financing for Development; the Post 2015 Development Agenda and the 21st session of the Conference of Parties to the UN Framework Convention on Climate Change in December 2015, would not be attained.
The releases said that LaRocque referred to the "looming crisis" arising from the plight of thousands of Dominicans of Haitian descent who had been rendered stateless by the Dominican Republic's Constitutional Court Ruling on nationality.
"What will become of these persons, many of whom have no ties whatsoever, social cultural or linguistic, to Haiti, to which they could well be deported," he questioned. The Secretary-General suggested that there might be a role for the Vatican in finding a just solution to the crisis, given its strong influence in both countries.
La Rocque, the release said commended the Pope for his role in helping to bring an end to the estrangement between Cuba and the United States, noting that "the establishment of diplomatic relations has brought about a positive and welcome change in the dynamics of our hemisphere".