Quincy Massiah, the music cart operator charged with murdering a workmate last year, was yesterday committed to stand trial at the High Court.
Massiah, 26, was charged late last year with the murder of Trevor Raghubir. He was not required to plead to the charge, which stated that on November 28th, at Lot 9 Camp and d'Urban streets, Georgetown, he murdered Raghubir.
Magistrate Ann McLennan, who presided over the preliminary inquiry into the charge, explained that the court found that a prima facie case has been established against the accused.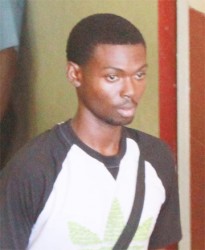 Massiah, after opting to address the court, stood in the prisoners' dock and murmured that his actions were in self defence. However, after receiving further instructions from his attorney, Dexter Todd, he opted to remain silent.
Massiah will remain on remand until his case is called for commencement of trial in the High Court.
Raghubir, also known as 'Dougla Boy,' was stabbed to death at G City Electronics and Record Bar, at Camp and D'Urban streets, where he worked.
Lawrence Braithwaite, who owns the record bar, had told Stabroek News that the two men were friends and said that Massiah, who was also an employee, was mentally ill. Employees at the store had speculated that the murder was the result of a fight over a hammock.
An employee, who did not want to be named, said that after arriving at work he found Massiah washing blood off the concrete in front of the store.
He said the man was questioned and when he and others went to the back of the yard they saw Raghubir's body there and called the police. They surmised that after he was stabbed, Raghubir might have run to the back of the yard, collapsed and succumbed.
Braithwaite described Massiah as honest, hardworking, meticulous and brilliant when it came to his work as a record keeper. Both men sold music CDs off push carts around the city.