Former AFC Member of Parliament, Dr Veerasammy Ramayya has been appointed as the Regional Executive Officer (REO) of Region Six (East Berbice/ Corentyne), weeks after he told Stabroek News that he had quit the party as he had not been offered a suitable position by the coalition government.
Last evening, the opposition People's Progressive Party (PPP) called the appointment "hypocritical" as it said that the APNU+AFC government's removal of various REOs since taking office has been that they were politically aligned.
Speaking to Stabroek News yesterday, Ramayya said that he was contacted by both the Office of Prime Minister Moses Nagamootoo and the Minister of Communities Ronald Bulkan to step in as REO and after a few days of consideration he agreed to do so.
Ramayya had stepped down from the AFC last month charging that Berbicians are not adequately represented in the coalition government. He had told Stabroek News then that "What they are doing is [creating] for the AFC people in George-town… Nobody in Berbice did not get a job. All the immediate persons have a ministerial position or some job in GINA… It seems as Berbicians are not qualified and I am dissatisfied."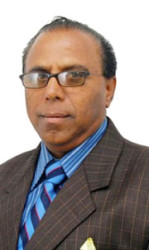 According to Ramayya, he was offered an assistant position in either the Ministry of Agriculture or the Office of the Prime Minister. However, he said he declined the offer made to him by Prime Minister Nagamootoo, also the Vice Chairman of the AFC.
"Moses told me that they would give me one staff and pay me $180,000 per month; be my own chauffeur and use my own vehicle… that is not (an acceptable) position for me for what I have done for the party".
He said he was also offered the opportunity to return as a Member of Parliament but he declined because he would have to stay in the city and therefore would not be able to work effectively in Berbice.
Speaking to Stabroek News last night Ramayya said that "I want to be in Berbice, I am a grass roots person, I want to be in Berbice, I love Berbice."
He stressed that as REO he can have an impact on the ground while maintaining his medical practice. He said that the very basic concerns of Berbicians can be tackled on the ground and not necessarily from Georgetown.
Ramayya said that "I find the challenge now is far greater for me. To give Berbice a new face lift…the school yards are bush, they need to be cleaned up…where I am living and other places there isn't even a cricket field, I want to do something for the youths that is where it has to start."
He noted that the REO position was far more lucrative than what he had been previously offered by the government.
"If you look when I left the AFC a few weeks ago I didn't resign because of position. If you go for a job and the job is not (paying adequately) you don't take it. I said to them let somebody get whatever position is being offered I can go back to my clinic," he stated. The former AFC member said that "I am a grass roots persons and I was given something more lucrative and I am able to function in all capacity now."
"I have done my work and I am not expecting a reward but I want to see Berbice develop in infrastructure. In the 23 years of the PPP/C government nothing where it concerns infrastructure was done to talk about", Ramayya had stated.
Meanwhile, the PPP in a statement last night said that "Ramayya has no professional experience or skills set to fill this highly technical position, nonetheless he was appointed to this position to replace a highly skilled professional public servant, who served as REO for a number of years in several regions, who was removed from his job because of his perceived allegiance to the PPP."
The statement added that the former REO was neither a member of the PPP nor an activist on behalf of the party.
The PPP stated that "Ramayya is an AFC leader and was a candidate on the APNU+AFC National List in the May 11 General and Regional Elections yet he was appointed an REO. This latest duplicitous and hypocritical act of political patronage and cronyism is another example of the APNU Government abandoning its campaign promise of professionalizing the public sector."
The party added that "This move by the APNU+AFC government is to politicize the regional administration and to ensure that the party hacks have a stronghold on the region's budget and finances and this political contamination must be condemned in the strongest possible terms."
Additionally, the party raised Ramayya's fallout with the government stating that he had publicly condemned the administration for not offering him a lucrative job.
The party alleged that in Region 6 an additional 16 persons have been employed by the Ministry of the Presidency who will all be paid $150,000 monthly and will enjoy duty-free concession, free telephone, driver and state vehicle as well as security, to do, exclusively, party political work. The party stated that it had reason to believe that there would be a replication of such action across the 10 administrative regions.
Around the Web