The Preliminary Inquiry (PI) into the charge against Junior Williams, who is accused of murdering elderly re-migrant Joyce Lewis, is expected to conclude soon as the prosecution is preparing to call its final witnesses.
Williams, also known as Kevin Alfred, was charged late last year with the murder of the elderly re-migrant, whose body was found sprawled on a bed with her underwear pulled to her ankles.
Williams, 24, of Crane Housing Scheme, West Coast Demerara, is accused of murdering Lewis, 75, on March 26, 2014, at Georgetown.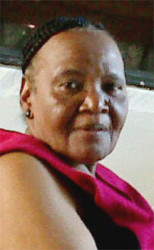 However, the PI has been conducted at the Georgetown Magistrates' Courts recently in Williams' absence. The accused has continuously expressed his unwillingness to appear before the court without legal representation. Additionally, Williams has voiced his distrust of Magistrate Ann McLennan, who is currently presiding over the matter.
The PI continued on Thursday in a similar fashion as Williams opted to sit on the steps of the interior stairway instead of entering the court, despite the magistrate ordering court officers to escort him into the courtroom. However, as a result of her futile attempts to have the accused brought into the court, Magistrate McLennan ordered that Williams be taken back to the holding cell while she carried on the PI in his absence.
Meanwhile, Police Prosecutor Neville Jeffers called three witnesses to testify on Thursday. He said he has two additional witnesses to call before closing his case against the murder accused.
Williams is expected to make his next court appearance on September 10th.
Lewis, who lived alone, was found dead in her Lot 3630 Christiani Street, North Ruimveldt home and was believed to have been strangled during an early morning robbery.
Her body was discovered at her home by the police and her sister. Sources close to the investigation said Lewis was found sprawled on a bed with her underwear pulled to her ankles. There were also dark marks around her neck.
The intruder is believed to have gained entrance through a window at the back of the two-storey house. The window was broken and the grill barring entry into the house was clipped.
Williams, who was also charged with the illegal possession of a firearm, is currently serving a 48-month-long prison sentence after Magistrate Judy Latchman found him guilty of the offence earlier this year.