New board chairman of the National Communication Network (NCN) Bishwa Panday yesterday said that the network and its sister company the Guyana Chronicle could run as businesses while discharging their mandates as all-inclusive entities, while Prime Minister Moses Nagamootoo called for a "fresh approach" where there is no political axe to grind.
Prime Minister Nagamootoo, who has responsibility for public information in the new government, yesterday issued the instruments of appointment to the board members of the two entities and he once again bemoaned the poor financial state of the two companies and called for them to be operated professionally.
Saying that he was not trying to "stir up or engage or confront a controversy," the Prime Minister maintained that the two companies are both state media, owned 100% by the state and "under the law, the government represents the state."
Addressing the board members, Nagamootoo said: "You are now the representatives of the stakeholders, the shareholders which is the state of Guyana represented by the Government of Guyana and this authority to manage, to supervise, to guide the two companies has been delegated you…" He added that his Director of Public Information Imran Khan is representing him on both of the boards.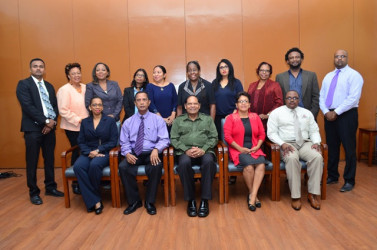 The Prime Minister had recently come under criticism over his position on the state-owned media, which appeared to be a retreat from previous postures by him as well as APNU and the AFC. When approached by this newspaper on the issue last week he offered "No comment."
Panday and activist Jean La Rose, who chairs the Guyana National News-paper Ltd (GNNL) Board, along with other members of both boards received their instruments of appointment at the Arthur Chung Convention Centre.
Addressing the gathering, Panday noted that while the entities are owned by the state and have "a responsibility to disseminate news on behalf of the government and the state, it does not mean that there must be room for inefficiencies, duplication and things of that nature. There cannot be room for over padding of staff, there cannot be room for persons taking credit and not paying…"
However, he said, they are national entities and must be responsible to society and all other organisations must have a place as it must not be a "one-sided thing." He added that it is understood that the entities are state owned and that they would receive calls from time to time, but they are not "private property" where "we can go in and do as we like."
According to Nagamootoo, the boards will decide on policy issues and engage management on the efficient operation of the entities even as he warned that it will be an uphill task.
He listed the Chronicle as one of the most "politically abused" newspaper in any part of the world, which has been reduced to the status of "a political rag" where only the views of the past government were allowed resulting in a credibility problem. The newspaper would have to be brought to a point where the views of all of the people of Guyana are reflected.
"I would expect that the newspaper would carry… opposing views in a responsible manner, not to use the newspaper to…denigrate someone you don't like as a jackass and revel in glory and satisfaction that it was one of the better headlines in a state-owned newspaper," the Prime Minister said. He was referring to a headline in Chronicle while he was in opposition naming him a jackass as stated by someone in the then PPP government.
The newspaper board would have to help guide management to make the newspaper national and all inclusive and acceptable; one that people would want to read that satisfies the needs of all the people in Guyana. He called on the board members to pay attention to how the newspaper can be transformed into a national newspaper and one that becomes a viable, sustainable entity not trapped in debt by those who book ads "and can't pay, or wouldn't pay or never intend to pay."
The newspaper should not be converted for other people's business or pleasure but rather be one that makes its mark in a
competitive market and fends for itself, is viable and provides a minimum human standard for employees. He revealed that employees now have to occasionally put on long boots to work when it rains or sit in a canteen surrounded asbestos. He said it is important to get a new building and plans to do this are in the making as he has already approached a funding agency which is willing to build the edifice with a grant.
According to the Prime Minister as Minister of Information in the PPP/C government he had allowed employees to have shares in the newspaper and he asked the board members to investigate whether the employees would have been paid dividends. He said employees as citizens of the country should be able to stand up and tell the management of the newspaper that they don't like what is being done. He said he will continue to give policy direction to "make this newspaper something that we can all be proud of."
Meanwhile, the Prime Minister said NCN also fell into what he termed "hard times" since it could neither communicate properly nor was it national.
"It was a network…[that] still has a lot of cobweb that has to be cleaned, cleansed…and it is one of the companies that you will find that has tremendous potential," the Prime Minister said, pointing out that the company is a pioneer in the radio television combination that has a national reach.
He announced that veteran broadcaster Rovin Deodat has come up with some proposals for changes to radio and these will be forwarded to the board. He stressed that that network needs to communicate with all of Guyana and it is unfair for residents in some parts of the interior not to receive radio signal from NCN.
The board would also be tasked with a "clean-up operation" of NCN starting with its fence which has fallen apart. Also, in its compound, there are 14 derelict vehicles that have to be removed.
NCN was also indebted to the tune of $600 million, which over the years had been reduced to about $200 million. But some of which is owed can no longer be recovered.
What he found surprising was that the persons who would have been sheltered under the statute of limitation so as not pay what they owe continue to do business with it and "pile up another set of debt." He said nothing stands in the way of the company moving forward once it is provided with the right kind of leadership.
On this note, the new board chairman announced that as of yesterday NCN would no longer be doing business with any person or entity which owes it.
"We cannot be doing business with anyone who owes the organisation and makes no effort to pay the organisation and then hides behind the three-year statute of limitation to continue to get free business," Panday said.
"Guyana needs you to be able to lift the NCN, both television and radio to ensure that they have reach, to ensure that they provide programmes that reflect the reality in Guyana," the Prime Minister said adding that they should disseminate what the government does since it is the administration that gives subvention.
The other members of the NCN board are; Mark Archer, Dr Paloma Mohamed, Margaret Lawrence, Kojo McPherson, Dhanwanti Sukhdeo, Carolyn Walcott, Imran Khan and Colin Thompson. Joining La Rose on the GNNL board are; Karen Davis, Khan, Scherazade Ishoof-Khan, Ruel Johnson, Bert Wilkinson, Tabitha Sarabo, Patricia Woolford and Sohan Poonai. General Manager of the Chronicle Michael Gordon and Chief Executive Officer Molly Hassan are ex-officio members of the respective boards with no voting rights. Staff members of the two entities will now select a colleague each to sit on the boards and those persons will have voting rights.
Around the Web