The partly-decomposed body of a missing man was fished out of a fish pond at Hubu, East Bank Essequibo a week ago and his relatives believe that he was murdered.
Chateram 'Roja' Hardeo, 27, a barber and tattoo artist of Unity, Parika, was last seen on the night of September 23rdth, drinking in a shop near Hubu Koker.
A post-mortem examination was done but according to the dead man's father it was inconclusive. Relatives then made contact with the police and requested that a second autopsy be performed as what appeared to be marks of violence were seen on the corpse.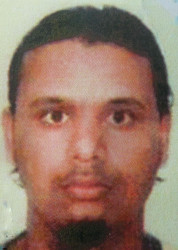 However, the second autopsy revealed that Hardeo died as a result of drowning and alcohol was also present in his body. Due to the extent of decomposition, the father of the dead man, Hardeo (only name), said that the pathologist was unable to determine whether Hardeo's body indeed bore marks of violence.
One of the dead man's eyes was also missing and another relative said that he recognised a gaping wound on Hardeo's head.
Two youths who were fishing discovered the floating corpse in the pond.
Hardeo told Stabroek News he was informed that on the night he was last seen alive his son collected alcohol belonging to someone else at the shop. He was further told that there was subsequently an altercation between his son and the son of the shop owner, whom he named. The distraught man said his son was then beaten by the man, who was later seen taking him in the direction where his body was found.
A reported witness to the events has since left the area after claiming he was threatened, the father said.
Although he was known to frequent drinking spots in the village, the younger Hardeo was a very quiet person and never interfered with anyone, which the community can attest to, his father stated.
The father said he is sure his son was murdered and he is determined to see justice served, while he expressed dissatisfaction at the sloth in the police investigation.
Although the deceased had been missing, his father said that relatives had no suspicions that he was dead as he would normally be away from home for two to three days, during which he would often stay with friends. "He does always come home back… so nobody didn't suspect anything," the father said.
Around the Web