The Bank of Guyana yesterday unveiled its second commemorative stamp since its establishment in 1965, in celebration of its Golden Jubilee.
The stamp was produced by the Guyana Post Office Corporation (GPOC) and the Bank of Guyana (BoG) and features the iconic central bank building.
BoG Governor Gobind Ganga said the collaboration with the GPOC is one of many events that will take place to mark the 50th anniversary of the institution. The stamp was printed with the theme, 'Promoting Financial Development for Guyana's Prosperity' as the centre of the design. It comes in denominations of $80 and $150.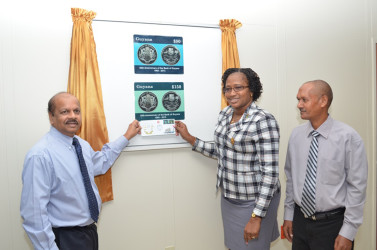 Ganga said the stamp captures "the past, the present and the future role of the bank in fostering monetary and financial stability. Not only for the welfare of the people…but, for the sustainable growth and development of the country." The bank he said is a "testimony of an institution that reflect the tenacity of an independent people."
Post Master General Abdul Hassan recognised the significant milestone and the relationship over the years that has seen prosperity which is represented in the commemorative stamp. He said that stamps are the perfect memorabilia to celebrate an anniversary or significant event.
Minister within the Ministry of Public Infrastructure Annette Ferguson hailed the collaboration between the GPOC and BoG as the two bodies work to deliver new and improved services. She pointed to the expansion of the range of services to improve e-commerce and integrated financial services, especially for the rural and riverine areas. She stressed that "the service industry relationship must be built on trust, integrity and reciprocity. Services must be quality and connect people with cost effective delivery."
The BoG commemorative stamps were available for purchase at any of the post offices throughout Guyana as of yesterday. Philatelists and members of the public who would like to obtain First Day Covers of the new issue of commemorative stamps can purchase same for $1000 from GPOC's Philatelic Services Department, Robb Street, Georgetown.