Four Guyanese men were recently charged in Gre-nada after authorities there seized 4 kilogrammes of cocaine as well as firearms and ammunition in what is being described as a major operation to smash an emergent drug ring.
According to a Grenada Informer report, Colin Hooper, 34, Osafi Bobb, 21, Mahendranauth Daff, 34, and David Frank, 50, were arraigned last week Thursday on 12 charges, including conspiracy, trafficking and possession of a controlled drug, possession of equipment to be used in the processing of cocaine, doing an act proprietary to trafficking, and possession of arms and ammunition.
Two Grenadian women, Rashida Marshall and Johsan Harriman, of Gouyave in St John's, were also charged this week in connection with the seizure.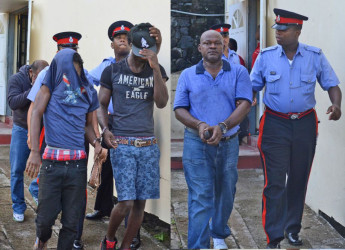 The report said the four men and the two women were arrested on Septem-ber 24th and October 4th, respectively, in Grand Anse and Tempe, where a quantity of equipment believed to be used in the processing of cocaine was discovered. The operation, which was carried out by the Royal Grenada Police Force's Drug Squad, took place at a hotel in the south of the island and a building in the village of Tempe simultaneously. It was described as the culmination of months of investigations into what the lawmen believed was a growing drug operation on the island.
The four men were denied bail on the grounds that they were non-nationals and therefore were seen as flight risks. They are expected to make their second court appearance on October 27th.
The prosecution has indicated that it intends to proceed indictable on all counts, given the seriousness of the offence before the court and the level of organisation that went into the alleged operation.
The women, meanwhile, were released on $25,000 bail each, with the conditions that they surrender all travel documents and report to the Gouyave Police Station twice weekly.
Around the Web