Guyana is not prepared to give away even an inch of its territory, President David Granger said yesterday at Bartica as he praised the Guyana Defence Force (GDF) on completion of Exercise Greenheart, reasserting that while this country has one of the best defence forces in the Caribbean, he is committed to peaceful resolutions of the issues with Venezuela and Suriname.
"We cannot sell out. We cannot give away. We cannot offer the adversary any corridor or passage," the Commander in Chief said, in a non-obtuse response to a recent admission by former president Bharrat Jagdeo that his PPP/C government had explored the option of granting Vene-zuela a channel through Guyana's Atlantic waters as a means of settling the long-running border controversy.
"We have an obligation to hand over to our children and grandchildren the country we inherited from our parents and grandparents," Granger said to rousing cheers from Barticians, adding that while there have been gunboats from the east and west the GDF must always be able to guarantee the people that they will be safe.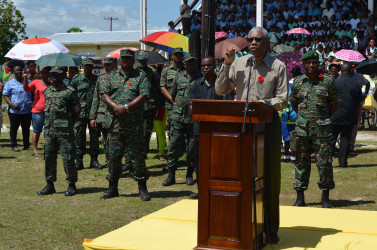 "Today Guyana has witnessed a display of total national defence," Granger said, noting that the defense that he has in mind is based on four pillars and the first is to master the environment. "The exercise is based on the environment of Guyana which is three quarters covered in jungle and today the GDF has displayed, demonstrated, and proved that it is a jungle force to be reckoned with because they have been able to master the environment of Guyana," Granger said, heaping praise on the 700-odd soldiers who stood in front of him.
"Let me tell you, that although we have this series of exercises going on, it is timely that we should have it here today because countries to the east and the west have used this opportunity to try to restate their claims to our territory," Granger said, stating that while it will be the force's 50th anniversary soon, it doesn't mean they have to behave like a 50-year-old. He said they should behave like a 15-year-old and must always be fit, active and alert. He said the GDF is the only organization that stands between the adversary and the people of Guyana and that the children here are entitled to inherit the country which we have inherited from our forefathers. Granger explained that what happened in Suriname was that the National Assembly "simply passed the resolution renaming the New River to the Corentyne and claiming all the land between New River and the real Corentyne." He asserted that we cannot accept a municipal decision and will only accept the ruling of a tribunal.
He said the GDF should not be troubled by gunboats as the people of Guyana will be behind them and the government will be in front and will always deploy diplomacy to ensure that peace is maintained. "I will continue to meet with any agency which is committed to the peaceful resolution of these controversies. At all costs Guyana's territorial integrity must be preserved. We have never sent a gunboat to the waters of a neighbouring state and we never will. And we don't want any neighbouring state to commit any act of aggression against us," Granger stated.
He proclaimed that the exercise was not an aggressive one. "This is not an offensive operation, this is an operation of defence. …Greenheart is about defining your territory. We are defensive not aggressive. We are protective not offensive. We are positive not negative," he said, stating that while he wants peace, this is the best demonstrator for his desire for peace and resolve.
"They say that Bartica is the gateway to the hinterland… the enemy thought Bartica would've been the gateway to the coastland but the GDF has stopped them in their tracks so Bartica is the gateway to a free Guyana," he said.
He went on to say that the constitution of the country requires the GDF to defend the country's national independence, preserve its sovereignty and integrity and to provide security for the citizens against any armed aggression. "… And this exercise today does exactly what the constitution of the republic of Guyana requires the GDF to do…," he said.
Granger said that in addition to protecting the citizens the force must show the people who are willing to come to Guyana to invest that they will be coming into a safe environment that is protected by one of the best defence forces in the Caribbean. "If they are coming to … our goldfield, to explore our petroleum, they must know that this country is committed to protecting their investments and no other country can intimidate them or threaten them," he said, stating that what the force showed today was that Guyana is willing to use every fibre of its state system to protect their investments.
Granger added that the exercises that were done are important and are simply a continuation of a long series. "Just as the human body needs exercise, soldiers need to be exercised in the environment in which they have to function. There is no room for complacency. There is no room for flabbiness and when you exercise you get rid of the fat and you become muscular," Granger added, stating that while every soldier is a citizen, every citizen is a soldier too.
He said the GDF has been training soldiers to operate in our jungle environment for about 45 years.
Granger mentioned the Colonel Robert Mitchell Jungle and Amphibious Warfare training school that every soldier, regardless of their intended field is required to go through. "These are musts for training soldiers for operating in our environment and we have started in the GDF a programme of greening; that is every officer and soldier must have the green experience in operating in the environment of the jungle."