Despite concerns about its construction on the Kitty foreshore, the Celina Atlantic Resort is seeking to expand and courida trees crucial to the sea defence were recently cut down around one of the buildings.
For several years despite concerns by environmentalists and sea defence experts the resort has been permitted to build and expand even though the city had questioned whether it had been permitted to do any construction.
In recent weeks, heavy duty equipment and containers had been parked on the landward side of the seawall apparently in preparation for more work. Despite several attempts by Stabroek News for official in-formation from the Ministry of Public Infras-tructure on the state of the project none has been forthcoming.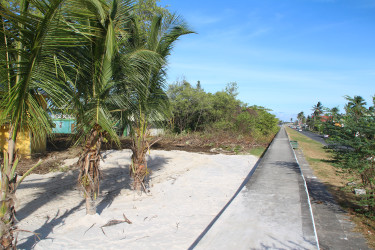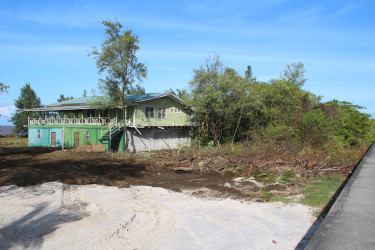 Yesterday, sources told Stabroek News that the proprietor of Celina Atlantic Resort has sent a proposal for construction of another area to the Ministry of Public Infras-tructure and this is under review. However, it seems that work has already begun and this has entailed the cutting of the key courida plants and shrubs which provide a buffer to the sea defence. One of the buildings of the complex which had been hidden by the trees is now clearly visible. The construction was halted in July after the Ministry of Public Infrastructure had reviewed the lease conditions and decided that it could not go forward without a proposal from the proprietor.
Malcolm Ali, former Chief Hydraulics Officer and Specialist Engineer for Sea Defences, had stated that the resort building violates the Sea Defence Act and permission for its construction should not have been granted.
In a letter to Stabroek News, Ali had stated that that area of sea defence was specifically designed to tackle massive erosion of the foreshore. Where the resort is located, there was the grouted boulder slope, below which has built up silt. The resort is built on the silt which can spontaneously erode, causing the building to collapse and damaging the sea wall.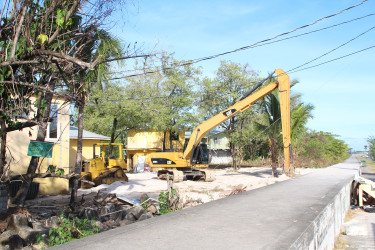 Ali had stated that the Sea Defence Act was amended due to the amount of severe erosion that was happening along the East Coast during the late 1960s. The amendment was intended to prevent construction of buildings and other structures in several areas of the coast landwards from 50 feet to 1000 feet from the centre line of the sea dam. He had stated that while construction wasn't allowed in certain places, special reasons and exceptions were granted for minor structures, for religious purposes, seaward of the sea dam.