Guyana's troubles with Venezuela was raised at the Open Government Partnership 2015 Global Summit in Mexico by Prime Minister Moses Nagamootoo on Wednesday and he said that Caracas has imposed a trade embargo against Guyana while also trying to prevent development of Guyana's natural resources.
"Venezuela has imposed a trade embargo against Guyana, refusing to buy our rice or to sell us fuel," Nagamootoo said in his address at the summit. "Venezuela has also sought to block oil exploration off Guyana's coast and gold extraction in our own territory, all in clear violation of international law and treaty obligations," he added, according to a copy of his speech provided by the Office of the Prime Minister.
The Open Government Partnership (OGP) is a multilateral initiative that was launched in 2011 to provide a platform for domestic reformers to secure concrete commitments and make their governments more responsive, accountable and transparent to their citizens. According to its website, the OGP promotes the principles of transparency, accountability, citizen participation and innovation in 65 member countries that have profited from its global platform to make over 2,000 open government commitments.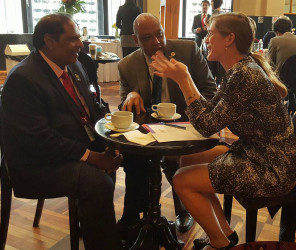 Every two years, the Country Chair hosts the OGP Global Summit, the largest gathering of open government practitioners from all over the world. The website says that representatives from governments, academia, civil society and multilateral organizations get together to exchange experiences and share best practices and major developments in open government. For this, it presents an opportunity to raise the profile of open government issues internationally and to explore how they link to some of the largest challenges the world faces.
In his address, Nagamootoo saluted the United States and other founding members for kick-starting the OGP initiative and congratulated Mexico on its leadership in the past year.
"For Guyana, being here is a kind of homecoming as this is where we need to be or ought to be in the near future. We look forward to being the 70th member, in the 70th year of the United Nations, once we conclude the consultation process and find sponsorship and support for our candidature," he said.
He said that the APNU+AFC government is fully committed to the rule of law, open democratic governance, open justice, the free media and accountability.
"We are a coalition government of six parties faced with the twin battle to reestablish our democracy and to protect our national sovereignty. Guyana is a small country with vast resources. Our border with our Western Neighbour was settled in (1899). However, Venezuela has sought to reassert a false claim to five eights of Guyana which includes all of our vast forest and mineral resources as well as our exclusive maritime zone," Nagamootoo told the gathering.
According to him, Venezuela has imposed a trade embargo against Guyana and has refused to buy the country's rice or to sell fuel to Guyana. He pointed out too that Venezuela has also sought to block oil exploration off Guyana's coast and gold extraction in the country's territory which is in clear violation of international law and treaty obligations.
"Guyana claims territory from no one. Guyana does not imprison political opponents or practice blackmail or bullying diplomacy. We seek to be part of a community of nations that respect the rule of law and to align with transformative movements like OGP," he said.
Nagamootoo declared that partnership on the core tenets of transparency, civil participation, and the fight against corruption are a celebration and a strengthening of democracy and, importantly, it allows for the development of both citizens and country.
He said that he finds in the partnership and in the objectives of the OGP, much that could help Guyana to fight corruption and "so we feel that we have found good company."
"We undertake to follow all the procedures hereon to become a member of OGP and to seek endorsement and full approval of our candidature," the Prime Minister said.