"It never used to pain every day and all day. But…when you feel the pain, you can't move," 11-year-old ovarian cancer survivor Shelly Debidin said, as she described the beginning of what would months later prove to be an ordeal.
Today, Shelly is an inspiration to patients and staff alike at the Georgetown Public Hospital Oncology Unit where she receives her chemotherapy treatment.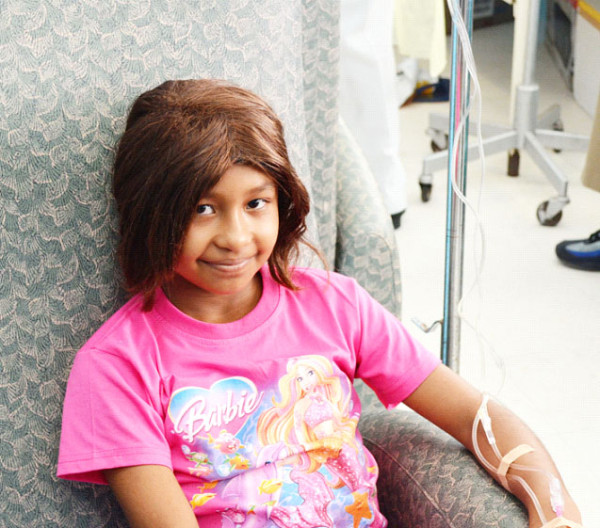 She said when she started feeling the pain in her lower right stomach, she told her mother about it but she thought it was trivial. "Before school closed, when I was graduating [from primary school], the pain get worse. I keep telling mommy and she seh that I mussy jump around and that make my belly start hurt," she recalled. Shelly said her mother only took it seriously when the pain became so unbearable that she was in tears and unable to move an inch from her bed.
"After mommy see it got so bad, she carry me to the hospital and a doctor see me and he give me some pain killers and then we went home," Shelly said. "I was on the tablets for about two weeks and [when] it finished the pain started to come back," she said, but this time a swelling also began to appear on her lower belly. "When mommy see it and she feel it she get worried and that's and we rush back to the hospital and the doctor said that she didn't know what it was but she was admitting me to the Georgetown Hospital and that's how I ended up here," she added. The little girl said that after she came to the city hospital she spent two days in the paediatric ward during which time several tests were done, which allowed the doctors to diagnose ovarian cancer.
Shelly lives in Port Kaituma, Region One and so when she was transferred to Georgetown her mother stayed behind while her grandmother, Celestine DeFreitas, who lives in Kuru Kururu                                                     Linden- Soesdyke Highway, was tasked with taking care of her.
"I couldn't believe it. She is so young and this happened," DeFreitas said. "But then everything was in God's hands and we placed all of our faith in God's hand and the doctors," she added.
DeFreitas told Stabroek News that she was flabbergasted at the news that her granddaughter had ovarian cancer. "No one in the family has it, so it was surprising. But we couldn't stay negative. They said they could've done the surgery and remove the mass and they did," she added.
Because of the early diagnosis of the cancer, the doctors were able to remove the infected ovary and Shelly was placed on chemotherapy.
"I couldn't move at all for two days after the surgery [although] I was feeling better. The pain went away and after about a week I could've walked again. The worst part was when I had to do the chemotherapy," she said, recalling the vomiting and weakness coupled with no taste in her mouth that she endured for several weeks.
Even though Shelly is young and the city and the illness were new to her, she said she understood that she had to be strong and to push through her chemotherapy to feel better.
The enthusiastic little girl reminisced on her school days and expressed how much she misses classes and yearns to go back. While many children her age are happy to stay away from school, Shelly is the exception as she said she enjoys doing housework and studying. She wants to study hard so she can assist in the battle against cancer in the future.
"I want to be a nurse," she said, because of the "amazing" treatment she receives at the Oncology Unit.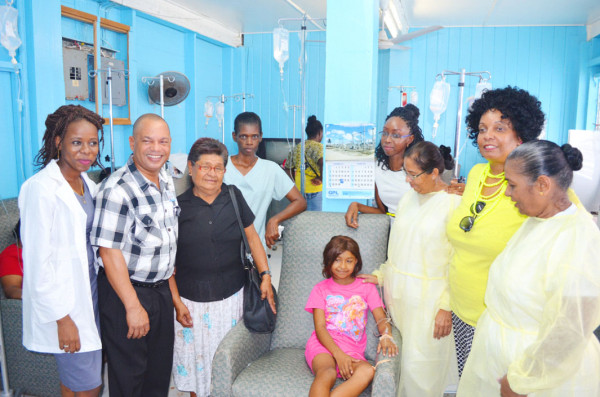 "I feel strong. I feel strong as ever and I have so many people to thank. I have to thank God and all the doctors who helped me through and nurses. I have to thank my grandmother for always being here with me and bringing me all the way from Kuru Kururu every day," Shelly said.
Oncology Unit
The Oncology Unit is grossly understaffed and often lacks sufficient drugs. But Dr Latoya Gooding, who is in charge of the unit, is inspired by survivors such as Shelly and motivated by the help she has been receiving from donors who are now planning to assist with expanding the unit's operations.
"I fight for them," Gooding said of her patients. She said her passion towards beating cancer came from watching her grandfather die after he was diagnosed with prostate cancer because of a lack of treatment. "He was part of the Urology Clinic here and they didn't do anything for him," she said.
She is determined not to have that happen to anyone else. Gooding said her resolve is strengthened by the positive survival rate she has seen since she has been there. She said Shelly has been a shining star and inspiration for all of the other patients.
The unit has been running for about 7 years and Gooding believes that even though it is small it has had a positive impact on cancer patients in Guyana. Currently there are about 100 patients doing chemotherapy and about 200 others who are at various clinics awaiting treatment.
"We have had support from both the government and OSHAG [Organisation of Social and Health Advancement in Guyana and the Caribbean], a private entity that is partnered with the hospital," she said, pointing out that while the unit currently has three nurses and two doctors, the organisation is pushing for another room to facilitate more patients and nurses.
OSHAG has donated wigs for the patients and the nine couches the patients sit on while they receive their medication.
"While currently we can only take nine persons at a time, I'm hoping that after the expansion I get the eight couches that I have asked for. Then we will be able to have 17 persons at a time," Gooding said. While most of the donations to the unit come from OSHAG, Gooding said that sometimes patients' relatives donate items. "The television and fridge were donated by patients' relatives and even the other day one of the relatives donated a fan because they were happy with the treatment everyone was getting here," Gooding said.
Making do with a small staff and limited drugs, she said, "… is a lot of work but I try to manage. I would like a social worker here with me [to] counsel my patients, a nutritionist [to] advise them on their diet, because the diet plays an important part in chemotherapy treatment, two more nurses, and about another doctor.
"In terms of drugs we are getting more by the day and on days we don't have we have no choice but to manage," Gooding stated. While all of the services at the unit are free, Gooding said that radiotherapy, which is not offered, is done at the Cancer Institute, where the government subsidises half of the cost. In the long term, she would like the unit to have its own CT scan and mammogram machines, and a building where it can offer radiotherapy.
"So far since I've been here we've been seeing a high survival rate of breast and cervical cancer. We had a visiting oncologist here recently and when he checked five persons they were cancer free. They were treated right here from the beginning and now they were free. When we told one of the patients, she couldn't believe it. She just broke down in tears and that's what drives us," Gooding said, highlighting that there needs to be a national plan to tackle cancer as most times when cancer is detected in persons it's because it has reached a stage where it is prominent. She explained that if people are more aware and knowledgeable then they could tackle the issue in its early stages. She pointed out that while the most common cancers are breast, cervical, and colon and are mainly diagnosed in adults, there has been an increase in the number of children being diagnosed. The facility is currently treating seven children between the ages of 7 and 17.
On the other side of the spectrum, two 73-year-old patients who are currently receiving chemotherapy said they are very grateful to the unit as they have never been treated so well. Simon Young, from Parika, said, "It's frustrating. I was diagnosed years [ago] because I was going at Woodlands all the time and you do all sorts of things there for couple years and then he tell me that the private hospital don't have this type of treatment and they referred me here. I joined last year." He added that the staff are amazing and while he is in his second cycle he feels great and is trying.
Ranette Barry, who was diagnosed for the second time, explained that only last week she found out that after she had fought off breast cancer it returned to her lungs. "I am here doing chemotherapy and I have 12 other cycles. I did eight before and it came back," she said, stating that when she was diagnosed in 2013, she was treated right at the department but did radiation at the Cancer Institute. "The nurses here are very nice and they are the ones who actually encouraged me to come back and do the second time," she said.
Barry said she is optimistic that the cancer will go away again and advises all women to keep constant check. "No other person should wait like I did and I would've been better off if I sought medical help immediately. I encourage women to do regularly checks and don't wait like I did," she said, stating that she waited about two years after she first noticed the lump to get medical attention as she did not take it seriously.
Statistics
Meanwhile, according to Gooding, so far for the year 241 persons have been diagnosed with cancer at the unit. Of that number, 102 were diagnosed with breast cancer, 37 with cervical, 14 with ovarian, 10 with colon, 2 with stomach, 10 with rectum, 4 with lung, and 65 with other types.
As regards the high number of breast cancer diagnoses, Gooding stated that most of the persons are diagnosed at a late stage which is much more difficult to treat. She said every woman should make time to have regular checkups. "Early detection save lives," she said, highlighting that breast cancer screening is done every Wednesday at the unit starting at 1 pm.
Around the Web