Government is interested in extending the forests protection agreement with Norway but there are some concerns that have to be addressed and there is need for a high-level meeting to discuss these issues, Mini-ster of Goverance Raphael Trotman says.
Recently, a group of civil society organisations expressed concerns at indications that government is walking away from renewing the agreement with Norway and also expressed dissatisfaction that the administration is dismissive of its views on the upcoming climate change meeting in Paris. In a statement issued by the Guyana Human Rights Association (GHRA), several groups which comprise the Guyana Policy Forum, criticized the failure to incorporate recommendations from civic caucuses into the revised draft document for the Paris talks and also complained over the lack of clarity on the future of the Guyana-Norway agreement.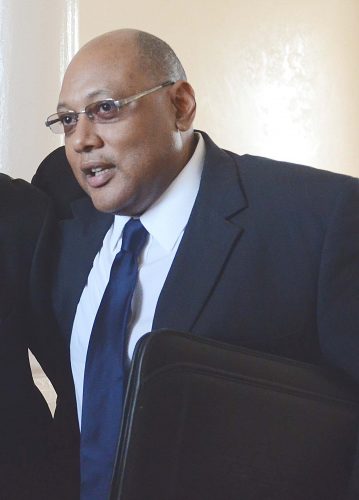 On Friday, Trotman told Stabroek News that the agreement with Norway is critical to Guyana's long-term development and the relationship is of paramount importance and must be preserved. "The government is deeply interested in pursuing and extending that agreement," he said.
Under the agreement, which was signed in 2009, Guyana could earn up to US$250 million in performance-based payments for the period up until 2015, based on an independent verification of Guyana's deforestation and forest degradation rates and progress on REDD+ en-abling activities. REDD+ is a global initiative that aims to reduce greenhouse gas emissions from deforestation and forest degradation. Guyana has so far earned US$190 million under the partnership.
In September, Director of Norway's International Climate and Forest Initiative Per Fredrik Pharo told Stabroek News that there are currently no discussions on extending the forests partnership be-tween Guyana and Norway but talks can start when the agreed deliverables of the current partnership are met.
Trotman told Stabroek News that both countries have some concerns and government wants to meet the Norwegians on the matter. "The concerns of both Guyana and Norway, because we have respective concerns, will have to be addressed and I believe that sometime within the very near future, some kind of high-level meeting will have to be held because it continues to raise its head that there are concerns and I think we need to sit and work them out," he said. He did not elaborate on the concerns.
The minister was of the view that the initial meeting should be more of an informal nature "to build on the relationship first before we look at the technical side of the agreement." He said that this is important to understand the perspectives from both sides.
He pointed out that Norway will soon have elections and there may be pressure on Oslo to show results. He said too that the APNU+AFC government is also new. In terms of projects, he recalled that the Amaila Falls Hydro-power Project (AFHP), which was supported by Norway, was determined to not be economically viable based on what government gleaned from the Inter-American Development Bank.
Norway had strongly supported the AFHP and in September Pharo had called on the APNU+AFC administration to consider the merits of the project, since Guyana stood to lose over $16 billion previously earmarked for the project if it fails to come up with a plan for "transformational" renewable energy sources that can be realised in the next few years.
Trotman said government is looking to have an energy matrix that includes hydro but perhaps not one massive project, a number of projects that can still give the same or more capacity.