The Demerara Distillers Limited (DDL) Foundation last Saturday presented its first three graduates at its Fifth Annual Fundraising Dinner at the Marriott Hotel.
Chelsea Balkarran, who successfully completed her studies at Queen's College, and Fareeda Bacchus and Natasha Loncke, who completed their studies at the Bishops' High School, were the first students selected when the Foundation was launched five years ago, a press release from the company said.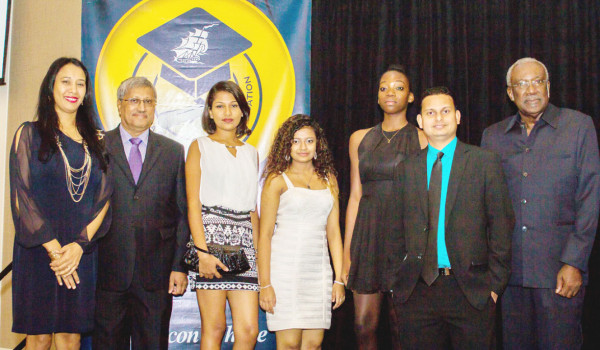 Today, the Foundation provides full assistance to 27 students to cover costs associated with attending school, such as uniforms, books, transportation and meals.
Students are selected on the basis of having excelled at the National Grade Six Examinations and have expressed a need for assistance due to financial and social constraints. They are required to attend quarterly meetings to report on their academic development.
According to the release, DDL Foundation Chairman Rudy Collins, in his address at the dinner, noted that the organisation is aiming to become the premier supporter of exceptionally talented students. Towards this end, he revealed that the Board has approved the creation of an Endowment Fund that would allow future benefactors to make significant donations to be utilised by the Foundation for an agreed set of purposes, such as providing scholarships.
Komal Samaroo, Chair-man of DDL, welcomed the announcement of the Endowment Fund and was the first to make a donation of one million dollars. A similar donation was made by the family of Bert Carter and there was a matching pledge by the Kads Khan Family Trust.
Part of the evening's proceedings included the auctioning of a bottle of limited El Dorado 25-Year Old Rum along with three bottles from the El Dorado Rare Collection Rums – Versailles 2001, Port Mourant 1999 and Enmore 1993 – only available in Europe.
Around the Web