The four men accused of killing 72-year-old Clementine Fiedtkou-Parris will likely know their fate today.
Justice Navindra Singh will sum-up the case to the jury this morning, after which it will be handed over for deliberation and the return of a verdict.
Brothers Orwin and Cleon Hinds, Kevin October and Roy Jacobs have been charged with murdering Fiedtkou-Parris on June 30, 2011, pursuant to an arrangement whereby money was intended to pass from one person to another.
The men have all pleaded not guilty to the charge.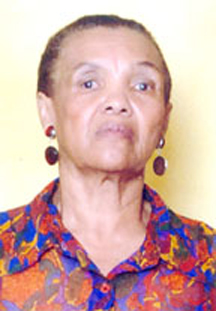 The state presented its closing addresses to the jury yesterday morning and prosecutor Teshanna James-Lake argued that the men were each responsible for the woman's death.
Rebutting October's alibi that he was in prison on the date and time of the murder, the prosecutor noted that while he was in custody in the morning, "he was on the road by the night of June 30, 2011 to do his crime."
The elderly woman was gunned at her Lot 42 Robb Street, Georgetown home.
The prosecutor argued further that the caution statements which the accused gave, were freely and voluntarily provided by them.
The Hinds brothers and Jacobs had testified in their defence that they were badly beaten to sign statements prepared by the police. They claimed that they were in pain and afraid and, as a result, signed the documents.
Lake said that during police investigations, the men "sang like canaries. They talked themselves into jail."
The prosecutor said that as they spoke to investigators, what the accused did not now, was that it was immaterial whether each would have actually been the "triggerman or not."
"They clearly did not know how the law operates," Lake declared, while explaining to the jury that they each would be regarded as operating as part of a "joint enterprise," irrespective of who actually did the shooting.
The evidence before the court is that the dead woman's brother, Fitzroy Fiedtkou, had identified Jacobs as the shooter.
Lake argued that the evidence in the state's case against the men was "overwhelming, cogent and compelling." She added further that the state has proven its case beyond reasonable doubt.
Last Friday, the defence presented its closing arguments to the jury.
Today's hearing will commence at 9, at the High Court in Georgetown.
Around the Web