Businessman Naipaul Basdeoram found himself before a city court once again yesterday, when he faced charges of receiving stolen property and illegally exiting the country.
Basdeoram was accused of receiving a Guyana passport belonging to Michael Yadram between October 5th, 2014 and July 15th, 2015, knowing it was stolen or unlawfully obtained. The accused pleaded not guilty to that charge.
He was also read a second charge which stated that on August 26th, at Springlands, he left Guyana through a place that is not legally considered a port. Basdeoram pleaded guilty to the charge read.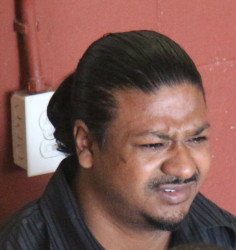 The businessman was fined $30,000 with an alternative of six months in prison for the charge of illegal emigration.
The prosecution objected to bail, raising the issue of the defendant being a possible flight risk.
Prosecutor Kerry Bostwick stated that Basdeoram had been placed on bail in relation to a firearm possession matter by another court and charged that he may have been attempting to flee the country.
This suggestion was strongly rejected by the defendant's attorney, Dexter Todd, who told the court that since the commencement of that matter, Basdeoram has left the jurisdiction three times and has made every appearance at the Vigilance Magistrate's Court. He added as well that the accused had in fact been at the Vigilance Court when he was arrested on Monday.
Police prosecutor Simone Payne did not object to bail being granted in the stolen property matter.
Basdeoram was placed on $75,000 bail by Magistrate Fabayo Azore and the matter has been adjourned to December 7th, when it will be heard in Court 1.
Around the Web