Football coach Vibert Butts was yesterday sentenced to three years in prison after he pleaded guilty to a can-nabis possession charge.
Butts, 58, of Norton Street, Lodge, was charged with having 46 grammes of cannabis for trafficking. The man was also read a second charge for being in the possession of utensils for use in the smoking of the narcotics.
Butts, a father of three young children, is renown-ed for scoring Guyana's first World Cup qualifier goal against Suriname in 1976.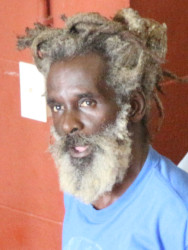 On November 23rd, ranks from the Customs Anti-Narcotic Unit (CANU), on receipt of information, had gone to Butts' home where they found a quantity of canna-bis and improvised pipes on the kitchen counter. The court was later told by Butts that the pipes were constructed out of coconut husks.
Butts was unrepresented at the hearing in George-town yesterday. He continuously told the court that he did not traffic drugs but that it was simply his way of life and part of his cultural practices.
Butts had initially pleaded not guilty to the charge of cannabis possession but entered a guilty plea for possession of the utensils. For his acceptance of that allegation, he was fined $6,000, with an accompanying sentence of one year imprisonment, which Magistrate Fabayo Azore said is the minimum penalty.
Butts, however, later changed his plea on the possession for trafficking charge to guilty, earning himself a three-year sentence along with a fine of $69,000. The two sentences will run concurrently.
Around the Web