The Iwokrama International Centre for Rain Forest Conservation has initiated phase 2 of Its model forestry operation.
A press release from Iwokarama stated that in 2014 they partnered with Farfan and Mendes to develop the operation which is in keeping with their mandate to develop sustainable businesses using multiple forest resources and international best practices.
The release noted that according to Section 9 of the Iwokrama Act (1996) a zoning exercise was conducted resulting in a Wilderness Preserve (WP) and a Sustainable Utilisation Area (SUA) being created. The SUA was delineated as the area where the Centre's development work on its experimental timber model and other business strategies including tourism and training will be conducted, the release said. The centre said that it would apply the results of its research and experience acquired in Phase 1 – forest dynamics, pre and post harvest inventories, community engagement, certification, facilities layout and logistics, to refine and improve operations and forest management in Phase 2.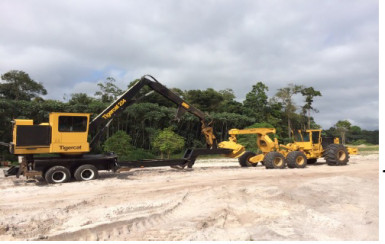 A 60-year cutting cycle which will yield a maximum of 1,800 ha per year under a selective harvesting regime will be employed; also the implementation of best practices in forestry including a rigid no-log export policy, Reduced Impact Logging (RIL) and Directional Felling (DF) techniques.
The operation will also adopt the "cutting for value" strategy (yields the highest recovery of high grade lumber from log, thus the highest value) as opposed to the industry standard of "cutting to order" which excludes obtaining the highest volume and grade.
A new Tigercat 635D skidder and a model 234 knuckleboom log loader which will result in faster and more efficient harvesting operations and a reduced environmental footprint, will be tested. Also studies on testing inventory and log measurement methods as well as sawmilling efficiencies will be performed, along with pre and post harvesting inventories on indicator species to evaluate the impact of harvesting on the forest.
All operations will comply with the stipulations of the national regulator including the Guyana Forestry Commission.
The organisation expects to maintain its working partnership with the North Rupununi District Development Board (NRDDB), the representative for 16 communities within the North Rupununi. Plans have been drafted for a meeting to host representatives from these communities to have them visit the forest operations and hold discussions with the Centre along with its private sector partners.
During this meeting the organisation will seek to renew the Collaborative Management Agreement (CMA) and the memorandum of understating (MOU) with the NRDDB regarding the co-management of the Iwokarama Forest.
Around the Web