Melissa Skeete, who was stabbed on Monday and tossed from a car onto a city street, succumbed on Monday night and the police are still hunting for the suspect—her common-law partner.
Crime Chief Wendell Blanhum told Stabroek News that the police continue to vigorously pursue the suspect, who fathered two of Skeete's four children.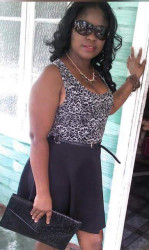 The police said that Skeete was stabbed to her abdomen by the man.
Skeete, who was employed with the George-town Public Hospital (GPH) as a dispatcher for over six months, succumbed to her injuries at the facility where she had been taken after the attack.
One of Skeete's colleagues at the GPH had recounted that moments after the woman had left the workplace on Monday afternoon, she was rushed back, covered in blood and in an unconscious state.
She was last seen entering a car which the suspect was in. The same car was soon after seen swaying out of control on Carmichael Street before it stopped and the woman was dumped out.
Skeete is survived by her four children and a brother.
Around the Web