Preparations for the Business Exposition, which opens tomorrow, are underway at the Sophia Exhibition Centre with the stationary stalls receiving a fresh coat of paint and pavilions to house several booths being set up to facilitate those businesses that will be showcased.
Yesterday, Stabroek News spoke with Ray Rahaman of Rent-A-Tent, who was on site overseeing the assembly of one of the larger non-stationary pavilions that will be capable of housing over 70 booths for small businesses showcasing their goods and services.
He said that this year's idea of local Business Expo could give smaller businesses the much needed venue to showcase what Guyanese entrepreneurship is all about.
The Institute of Private Enterprise Development Limited (IPED) is slated to be housed in a pavilion alongside businesses displaying processed foods. IPED recently provided assistance to a number of small businesses to allow them to participate in the trade fair.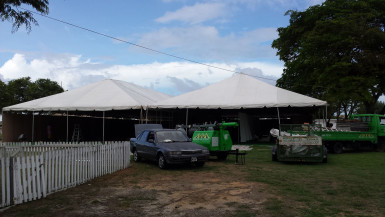 During a visit to the site on Tuesday this newspaper was told that arrangements were in place to showcase locally made textiles to the booming industry of online shopping providers. The number of businesses slated to partake could not be confirmed at the time, however, previously Stabroek News was told that more than 140 requests had been made for participation in the event, which replaces the annual GuyExpo for 2015.
Ahead of the November 27 – 29 Business Expo, the Ministry of Business hosted a three-day training exercise for small entrepreneurs at the Arthur Chung Conference Centre from November 20 – 22.
The training session was to familiarize small entrepreneurs with financing for small business and understanding government procurement procedures. Participants also benefited from sessions on digitizing business operations, marketing and optimizing participation in international trade fairs.
Over the years, the Guyana Office for Investment (Go-Invest) has been responsible for planning local participation in international trade fairs though participants have provided mixed reviews of their outcomes. Go-Invest is set to play a prominent role in this first Business Expo in Guyana, which is expected to be dominated by artisans and agro-processors. There is concern though that without the boost from larger international businesses the expo will be missing the larger scale manufacturing and distribution firms.
Stabroek News was told that Business Expo will differ significantly from GuyExpo in that the businesses showcased will likely be on a smaller scale while there will be the inclusion of education-based booths tackling health and science.
The Business Expo will showcase such local businesses as B's Beauty Circle which specialises in natural beauty products as well as workshops on nutrition, aromatherapy and even website deployment. Buymygy.com will also make an appearance showcasing its online marketplace that offers products from books and stationery to real estate possibilities and even pets.
Around the Web