Four Celina's Atlantic Resort workers were yesterday arrested by the police and later released on bail after the Ministry of Public Infrastructure (MPI) lodged a complaint with the Criminal Investigation Department (CID) over unauthorized construction work.
The dramatic action by the ministry came after it was ignored for months by the proprietor of the Kitty resort despite several cease orders being issued over the work.
Minister David Patterson confirmed yesterday that following a formal complaint from the MPI the four workers were arrested after members of the police force visited the site in the afternoon.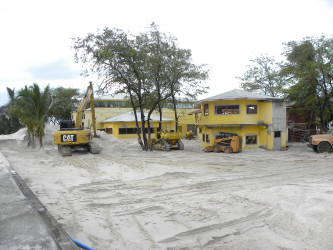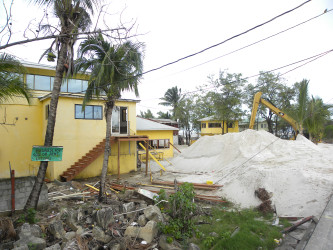 A statement yesterday from the ministry said that MPI lodged a formal complaint with the CID over the construction work that was underway at the resort as the MPI has been concerned with the risk it posed to the sea defence.
He said the MPI sought assistance in the matter from the police's legal advisor and was told that the police can proceed to prosecute the resort under the Sea Defence Act.
According to the statement when the police visited the site around 4:30 pm yesterday, the workers were proceeding with their work and three operators and a mechanic were arrested. The release said that an investigation has been launched into the extensive and detrimental work undertaken by the resort and that the employees have all pointed out one person as their employer. Additionally, the police are hoping that the arrests will send a clear message to both employees and employers at the resort and all future construction will stop in the process, the release said.
Patterson applauded the police's swift response and stated that the Ministry takes the protection and preservation of the sea defence extremely seriously and will continue to monitor the situation. While the workers were arrested and assisted with the investigation, they were released on a station bail last night.
Stabroek News has been reporting on the illegal construction and clearing that has been going on at the resort for several months. After several cease orders were issued by the sea defence authority, construction was halted for several weeks as the proprietor of the resort was told he had to submit a proposal that had to be reviewed and approved in order for him to continue. After he submitted the proposal, the construction began without it being approved and several more cease orders were ignored. After it seemed as if the construction was not going to stop, Patterson told Stabroek News he would apply for an injunction from the courts that would assist in stopping all construction.
Around the Web