Veteran engineer Rickford Lowe died yesterday at a city hospital after a brief period of illness.
He was 64.
His wife of 36 years, Debra Lowe told Stabroek News that Lowe had been ill for a short period but was rushed to the hospital on Tuesday after complaining of feeling unwell. He died yesterday morning.
The mother of his two boys reflected on a man who did everything to make his family happy. "He was the best husband, a perfect husband, very caring, kind hearted and loving and loved his family," she said.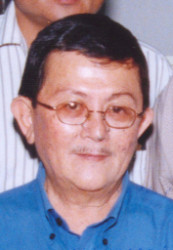 According to Mrs. Lowe, her husband was very passionate about his work and although he retired in 2012 still worked on consultancies for government and private agencies.
Lowe pursued studies in Civil Engineering but his specialist area was Bridge Building.
A barge at the Demerara Harbour Bridge is named in his honour for his contribution to that project.
Former Minister of Public Works Robeson Benn yesterday expressed shock at Lowe's passing and lamented that not only was his death a loss to the engineering fraternity but to the country.
He pointed out that Lowe, who worked at the Ministry of Public Works from 1992 to 2012 when he retired, was au fait with most of government's "big capital projects".
"Ricky was for all of us a highly regarded engineer and specialist. I am in shock I did not know he died. He was a dedicated worker and was part of not only the planning but execution of many of the road projects you see," Benn said, naming the East Bank Road Project and the New Amsterdam to Canje Roads as projects Lowe worked on.
When he was not working Lowe enjoyed listening to music, camping and travelling through Guyana's hinterlands.
His wife said he will be most remembered for his humility and kindness and selfless giving.
Around the Web