A Plaisance resident, who ingested 834 grammes of cocaine in pellets in order to smuggle same to the United States, was yesterday jailed for 4 years and fined $2,518,000, by Magistrate Fabayo Azore.
Johan Joaquin, 44, of 72 Headley Street, Plaisance, pleaded guilty to the charge of possession of cocaine for the purpose of trafficking,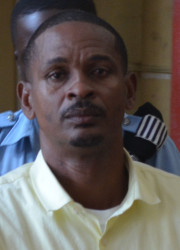 when he appeared at the Georgetown Magistrates' Court. The court was told that between November 22 and 24 at the Woodlands Hospital, Joaquin excreted 75 pellets containing a total of 834 grammes of cocaine.
Joaquin, who was an outgoing passenger at the Cheddi Jagan International Airport, was booked on a Caribbean Airlines Flight destined to the US on November 22. As he was passing through security, he was stopped and questioned by Customs Anti-Narcotics Unit officers and based on his responses, was subsequently arrested by the officers.
Joaquin was taken to the Woodlands Hospital where an x-ray done on his abdomen revealed foreign objects. Between November 22 and 24, Joaquin excreted 75 pellets, which were later tested and confirmed to be cocaine.
Around the Web