The suspect in the murder of Georgetown Public Hospital (GPH) dispatcher Melissa Skeete is claiming that she attacked him with a blade, which he managed to take away and then used to fatally stab her.
Crime Chief Wendell Blanhum yesterday said the man confessed to the killing during intensive interrogation at the CID Headquarters, Eve Leary.
The suspect surrendered on Wednesday in the company of his lawyer.
Stabroek News was told by sources close to the case that detectives are still looking for the man's car, where Skeete was fatally stabbed, along with the clothing he was wearing at the time and the murder weapon, which was a surgical blade.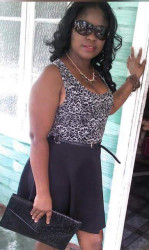 He told investigators yesterday that he threw the clothing and blade into a section of the Atlantic Ocean, shortly after the stabbing.
This newspaper was told that the stabbing followed an argument over another relationship that Skeete had apparently started unbeknownst to the man.
The suspect told detectives that last week he went to the woman's Plaisance home and when she saw him, she ran into the building and locked the door. He said he later spotted a strange man inside when he peeped through a window. The suspect claimed that he managed to enter the home and that the woman ran out when he did.
He said on Monday he picked the woman up from her workplace and while in his car there was an argument related to the man. He said that he told her that the relationship was over and it was then that Skeete pulled out a surgical blade and attempted to stab him.
Based on his explanation, he managed to overpower the woman and stabbed her seven times about her body. He claimed that the woman then jumped out of the vehicle and he drove off. He said that he then drove to the seawalls, in the vicinity of Ogle, where he threw his clothing and the blade into the water.
One of Skeete's colleagues had recounted that she left in the suspect's car, which was soon after seen swaying out of control on Carmichael Street, where witnesses said the bloodied woman was dumped out.
Skeete, a mother of four, succumbed to her injuries at the GPH, where she was eventually taken for treatment.
Around the Web