The University of Guyana's Turkeyen Campus was back to normal yesterday after a fire on Tuesday evening devoured one of the Faculty of Natural Sciences' buildings.
According to a press release yesterday from the University of Guyana, after the building went up in flames, the safety and security advisor immediately initiated clearance of non-essential personnel from campus and the fire service with four engines contained and extinguished the fire. The release stated that the University is extremely grateful that no one was hurt and the administration is in the process of determining the extent of material damage. While the remains of the destroyed building are still to be removed, the release stated that the campus is secure and all buildings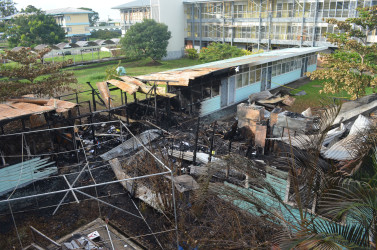 are safe to access with the exception of the site of the fire which has been cordoned off by the police and classes will proceed normally.
Acting Vice-Chancellor, Barbara Reynolds expressed her appreciation to the fire chief and the fire service, the police, and all the senior officers and ranks for their assistance and support to the university. "I would like to personally commend all students, staff, council members, and friends who exercised true community spirt through the many calls to report the blaze, and the offer of support by acceding immediately to the request to evacuate the campus; the cleaning staff and security personnel who maintained their post; and particularly the heroic efforts of faculty and students who assisted in the removal of documents and equipment," Reynolds said. The release added that in the coming days and weeks, the university will use the incident as a benchmark for understanding and minimizing the likelihood of a similar occurrence and build back better what was lost in the blaze.
Around the Web