An Essequibo businessman was shot when he decided to stand up to two bandits during a robbery on Wednesday evening.
Fizool Mohamed, the proprietor of Seeta's Licensed Liquor Restaurant and S&M Mohamed and Sons Variety Store, of Zorg Village, Essequibo Coast, is now a patient of the Suddie Public Hospital.
Mohamed, 55, was shot to his left foot by the bandits, who robbed him of his gold jewellery during the attack.
'G' Division Commander Kevin Adonis yesterday said that two persons are in custody. He noted that the two suspects are known to the police. He, however, added that none of the stolen items were recovered.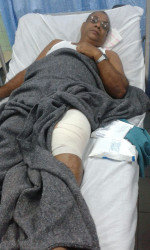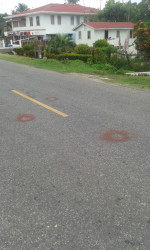 Speaking with this newspaper from his hospital bed in the Intensive Care Unit of the hospital, Mohamed said the attack occurred around 8pm in front of his home, where his businesses are also located.
"I was sitting on a bench in front of my home along with my neighbour when I was approached by two men and one had a gun in his hand. When they came close, they said to strip everything and give them and I say, 'Give y'all wah? If you want it, tek it,'" he related.
According to Mohamed, one of them pointed the gun to him and the other grabbed his 45-pennyweight gold band and his 18-pennyweight gold chain.
"I got up and retaliated by fighting back. I cuff them and so because I thought it was a toy gun that they had. The one with the gun then fired the shot which caught me on my left leg and I fall down and the bandits fired three more shots in the air then they run away to the sea side. My neighbour run and start hollering that I got shot and everyone else came out to assist me," Mohamed added.
The man recalled that he shouted for his wife, who was inside at the time, and told her to hide, which she did.
He said neighbours took him to the hospital, where the bullet that was lodged in his leg was extracted. "Right now I'm in a lot of pain but I'm thankful that me and my wife are both alive," Mohamed said.
Meanwhile, one of the man's neighbours said she was watching a movie at home when she heard the gunshots. "We went watching a movie and I hear the first gunshot, so I say mussee squib and then I hear a next one and same time my daughter peep out and I tell she is gunshots. Me and my husband and daughter get so confused and we run in the backyard and then we hear all the commotion and then when we watch we see Uncle Fizool lie down on the road and that is how we know he get shoot," she noted.
The woman added that after the man was taken to the hospital, they took spray paint and marked the areas where the bullets landed to assist the police. She said that the police at Anna Regina were contacted and arrived later at the scene.
Around the Web