Michelle Bristol, the 27-year-old woman who collapsed and died at the Cheddi Jagan International Airport, Timehri was actively involved in the fight against bullying in schools, her mother says.
Claire Bristol, who spoke with Stabroek News at her Diamond Housing Scheme home yesterday, said her daughter travelled frequently from Guyana to the US and St Lucia as she worked on her "charitable projects."
Bristol, who was an intended passenger on Caribbean Airlines' outgoing flight 526 to JFK, New York, is reported to have collapsed at the airport after suffering what appears to have been a seizure as she went through the body scanner.
A post-mortem examination is scheduled to be performed on her body today.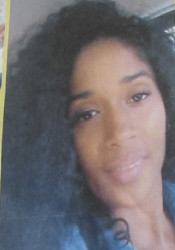 According to her mother, Bristol, who is a US citizen, returned to Guyana to take her two-year-old daughter to spend the Thanksgiving holiday with her.
Bristol was the founder and President of the "You and I Foundation." The foundation, according to Claire Bristol, was only recently registered as a Non-Governmental Organisation (NGO). It was set up to address the effects of bullying within society and the school system, she added.
"She struggled so hard with getting this foundation up and I think is only the day before she travel it register," her tearful mother related, while adding that her daughter had dedicated her life to helping the less fortunate.
"We had already started putting together things for our annual charity trip to Haiti. Sometimes we would stop in St Lucia and send the things over and sometimes we took the things," she further said.
Claire Bristol up to yesterday had no idea what could've caused the death of her eldest child. "She born with an irregular heartbeat but she grow out of it and wasn't having any problems. I don't know what could've caused her to die," she said.
Sections of the "You and I Foundation" brochure.
Pic saved as flyer
Around the Web