Security of small states will be a key issue for Guyana at today's Commonwealth Heads of Government Meeting (CHOGM) in Malta in the backdrop of months of aggression by Venezuela over the border controversy between the two countries.
Yesterday, President David Granger arrived on the Mediterranean island for the CHOGM where he will place issues such as border security and climate change at the top of his agenda.
Speaking to GINA briefly on Wednesday while in transit in Trinidad and Tobago, the President said, "We have always been able to enjoy the support of the Commonwealth and we will continue to work with our partners in the Commonwealth to ensure that their support continues undiminished and that we send a message to aggressor states, in this case Venezuela, that we are not alone."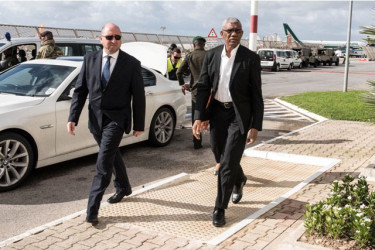 Granger said that if Venezuela believes it has a claim, that country should present the evidence of its assertion to an international forum so that the matter can be resolved.  "We feel that slowly world opinion is turning against aggressive solutions to conflicts or controversies and this is time when we have decided more positively than ever before to have a juridical settlement.  We've just had too many decades of harassment", he said, repeating a theme that Guyana has pushed incessantly in recent months.
A release from the Ministry of the Presidency reported that the Head of State joined Minister of Foreign Affairs Carl Greenidge who has already participated in the Commonwealth Foreign Ministers Meeting and the Commonwealth Minister-ial Action Group preceding the conference.
Greenidge in his contribution addressed the vulnerability of small states to economic shocks including trade shocks; environmental shocks involving climate change and the degeneration of marine and ocean systems and the resources of the ocean economy.
He noted that while legal parameters still need to be finalised the position adopted by the Common-wealth countries is agreeable to Guyana, "… it is a good report in terms of setting targets , recognising the (adverse) impacts of climate change … and the need to set targets that are consistent with goals set in the region."
Migration was also deliberated on by the foreign ministers as they explored common ground and possible approaches towards facilitating movement and skills between Commonwealth countries; agreeing that the Common-wealth Secretariat will be instrumental in facilitating and compiling policy positions. The challenges of international terrorism was extensively debated as it pertains to global migration
Greenidge said that as Guyana implements measures to strengthen its immigration policies – even though it has not been traditionally associated with the movement of extremists – all mechanisms of migration will be considered given that this is viewed as a method of spreading extreme ideology.
Also featured on the agenda was the issue of domestic violence as best practice methods to tackling this scourge were shared. Greenidge noted that while some countries have passed legislation there also needs to be change in attitude and culture and improved enforcement.
Of crucial interest to Guyana is the anticipated ratification of the position drafted on Venezuela's claims to the country's territory; which recommends strong support for Guyana and addresses the need to honour Treaty obligations and respect International law, the release said.
President Granger who is expected to participate in a number of bi-lateral meetings in the margins of the conference, will attend its official opening today; a reception hosted by Queen Elizabeth II and Prince Charles and later a reception and dinner for Heads of State. He is also due to participate in a Heads of Government Retreat tomorrow, aimed at facilitating dialogue between the leaders.
Around the Web