Two persons are now dead and another is hospitalised in critical condition after the car they were travelling in crashed into a truck at Coverden, on the East Bank highway yesterday morning.
Rohanie Durga, 49, and Robert Durga, 62, of Grove, East Bank Deme-rara, and Canada-based George Madhulall, 72, were driving along the East Bank highway when their car, a Toyota Spacio, bearing licence plate PPP 2513, collided head on with a Leyland Truck, GRR 7651, that was loaded with sand at the time.
Following the collision, the three were rushed to the Diamond Hospital, where Rohanie and Madhulall were pronounced dead. Robert was later admitted to the Georgetown Public Hospital with serious injuries.
The driver of the truck is currently in police custody.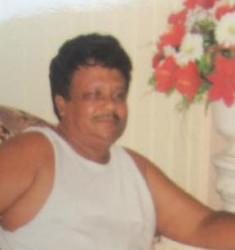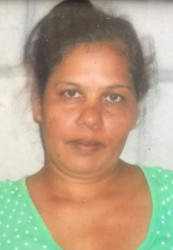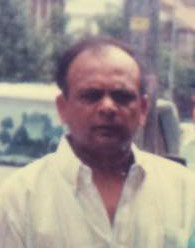 According to an eyewitness, the car was speeding south along the East Bank Highway when it suddenly started swerving and collided head on with the truck. "It happen around 9:30 and the road was wet 'cause the rain de falling," the eyewitness explained, while noting that it seemed as if the driver of the car had fallen asleep and as a result lost control of the vehicle.
"All of sudden the white car swerve out of he lane and start swerving into the truck man lane and the truck man see he and slow down but the white car still run straight into he," the man said.
He noted that all he heard was a loud bang and then he saw the front of the car completely smashed in and tucked under the destroyed bumper of the truck. "It was bad, man, it was real bad and when we rush to the scene we see two people pitch out the car hanging out and another inside the back seat and only the driver was alive," he further related.
Rohanie's son-in-law, Mark (only name given), told Stabroek News that the trio had left to shop for greens and were heading to Timehri to a religious function when the accident occurred.
"Uncle (Madhulall) said he was going to town to come back and we call around 9 and he seh that they were at Supply, so we seh he must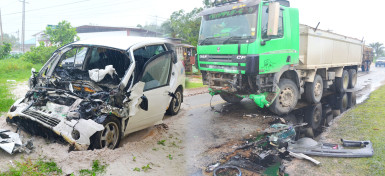 have been coming up," another relative, who was at Timehri at the time, related to Stabroek News. She said that after about 30 minutes elapsed and Madhulall did not answer his phone, they became worried. "After we calling and he ain't picking up, I call my daughter-in-law, who was coming up too, and she said that they had some big accident on the road and that there is a big traffic jam and so we thought it was that making them take long," she further explained.
She said after several other efforts to contact the man proved fruitless, they became even more worried. She said that after her daughter-in-law was able to pass the accident, then she was able to confirm that Madhulall was involved. "After we hear it was the white car that was involved we just start panic and rush to the scene, where we see the whole crash up and then we come straight to the funeral parlour to identify them," she added.
According to Mark, Madhulall, who resides in Canada, had only returned some four weeks ago and was planning on going back early next year.
Around the Web