Guyana's first ever Business Exposition opened yesterday and saw a promise by Business Minister Dominic Gaskin to make doing business in the country easier.
During his address at the opening ceremony yesterday afternoon at the National Exhibition Centre Secretariat, at Sophia, Gaskin noted the findings of the World Bank's 'Doing Business 2016: Measuring Regulatory Quality and Efficiency' report, in which Guyana is ranked at 137 of 189 countries. The report ranked Guyana particularly low as it relates to the ease of getting credit and also highlighted the 109 days it takes for access to electricity.
In an attempt to address these issues, Gaskin said his ministry supports legislative amendments to improve transfer of information from credit providers to strengthen the lending process on which businesses rely to access capital.
He also said it has entered into discussions with providers of electricity to explore options for easier access.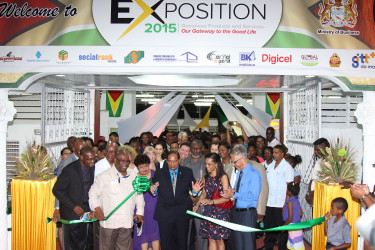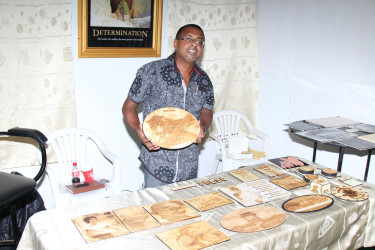 He pledged to continue to identify areas where the ease of doing business in Guyana needs to be improved and implement and recommend measures for those improvements.
"Quality products and quality services are what will make this a quality event. Creating an environment in which that quality can continuously improve is a priority for the Ministry of Business," he said.
Gaskin also noted that the ministry would like to explore the further development of the new expo to see whether it can become an effective measure in encouraging broader participation in profitable economic activities. Access to economic space, he said, must be available to all Guyanese and vulnerable sections, in particular, must not be shut out.
Also speaking at the opening ceremony was Patrick Zephyr, President of the Small Business Association, who lauded the expo as representative of the government's commitment to small businesses.
"The fact that there is small business expo means that the government is serious about the small business sector," he said, while adding that small business has always been treated as a stepchild or an outside child of government in the development process.
He noted that as someone who has devoted his life to small business, he has been knocking at the door of the government through successive administrations for years with no success. "Small business form the backbone of developed countries… small business is looking at your people, developing your people and the more people involved in small business, the better for the country," Zephyr, however, said.
Prime Minister Moses Nagamootoo, who officially declared the expo open, explained that it positions the government to give meaning to small initiative. There is always room for small business, he assured, while noting that the new government began encouraging these innovations by bringing in players and making them feel that they are worthy of being Guyanese stakeholders.
The ministry is hoping that the three-day event, which originated from the decision to postpone GuyExpo, serves as a catalyst for exhibitors to further develop their productive capacity for providing value-added goods and services.
Tameca Sukhdeo-Singh, of the Expo planning committee, told the opening ceremony that the event is designed to facilitate a platform for exhibitors to network with potential investors and buyers, thereby allowing them to find markets for local products and services. She noted that a special feature of the expo is that it allows large companies to sponsor the participation of small companies who utilise and promote their products, thereby displaying their commitment and support to small business development.
The exposition is being hosted at the National Exhibition Centre, at Sophia, under the theme "Guyana's Products and Services – our Gateway to the Good Life."
Around the Web