Several labour violations and poor working conditions were unearthed yesterday when Junior Social Protec-tion Minister Simona Broomes and officials from the Labour Department conducted a surprise inspection of stores in New Amsterdam.
Broomes and her team patrolled through Main Road and Pitt Street and inspected several private entities, during which a number of violations of workers' rights were uncovered. It was discovered that several entities force their employees to work beyond the 40-hour work week and do not pay for the overtime.
"It is beyond my imagination what is happening in Berbice. I never ever expected it to be this bad… Workers are working for 14, 12, 10 and 9 hours per day with no overtime and [five] minutes lunch. They don't have any leave… Security guards are working without any guard huts and standing in the rain… I think this is ridiculous," Broomes said after the inspections. She pointed out that labour laws are being violated across the board and workers are not aware of their rights.
The surprise inspection is part of an ongoing campaign to enforce labour laws. The minister and her team of inspectors visited several clothing stores, supermarkets and electronics stores in the town. At a branch of M Ali and Sons Supermarket on Strand Public Road, workers appeared a bit hostile. "Sorry I can't give you any information on that," a worker responded to Broomes when she asked about her working hours.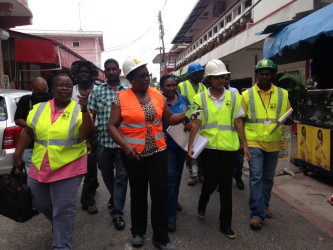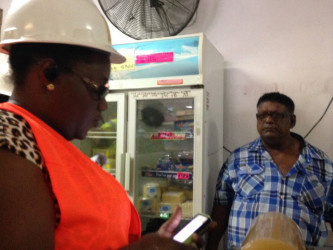 Stabroek News later learnt that the employers had strict rules against workers speaking to anyone from the team. At the same supermarket, the employers hid from the minister and team. A worker, when questioned, said his boss was out. However, it was later discovered that the boss was in his office.
At the M Ali and Sons Supermarket on Main Street, workers said their hours were from 7.30 am to 9 pm six days a week, with no overtime. Broomes spoke to the employer, who remained silent, informing him that he would have to pay his staff overtime after it is calculated by her team.
As the team spoke to workers from different stores, many pleaded with team members not to disclose their names and were assured of that this would not happen.
Workers also complained of being verbally abused by their bosses. At one establishment, a worker was summoned by the boss as the minister and team were leaving and questioned as to what had been said to the inspectors. At several other businesses, workers were tight-lipped when questioned by labour inspectors. How-ever, the minister informed the young employees that they should not be afraid to speak for their rights, while adding that if they were victimised as a result they should contact her office.
At the popular clothing store Hasrat Ali and Sons, workers were found labouring in tremendous heat, while the proprietor sat in an air conditioned cubicle. There were several non-working fans around the store, with the only working ones located at the cashier's station. The minister pleaded with the proprietor to provide better working conditions for his staff.
Security guards highlighted that their 12-hour work day involved being on their feet the entire time. A few complained of being underpaid by their firm, but said they stuck it out because they needed the job. Broomes said that despite their reason for accepting the job, better working conditions are needed. She asked the team to investigate the complaints.
Several employees highlighted that their National Insurance Scheme (NIS) contributions were not being paid by their employer.
Other issues discovered included many stores with only one exit, no fire extinguishers, no first aid kits, no lunchroom area and limited working space. Also workers are being paid without signing for payments and without pay slips being provided.
Speaking on the lack of compliance, Broomes said her ministry would be working to educate business owners on issues they need to comply with. However, she noted the need to strengthen the department in Berbice. The current Labour Officer is said to be a pensioner in his 70s.
A few businesses that had violations were given dates for re-inspection.
Of the many businesses visited by the team only one, Sher's Fashion, stood out as complying with all the rules and regulations and was congratulated by the minister and her team.
Inspection will intensify throughout the country during the busy Christmas period, Broomes said. She urged all employers to bring their businesses into full compliance as soon as possible.
Around the Web