A teen is now dead and another youth is hospitalised with injuries after they collided with a pick-up truck in the city on Thursday night.
Travis Bollers, 17, and Quacy McCalman, 22, of Werk-en-Rust, were riding on a CG motorcycle along Pike Street, Campbellville, around 11.30 pm heading towards Sheriff Street when they collided head with a Toyota Tacoma that turned into the street.
Bollers, who was riding the bike, and McCalman, who was the pillion rider, were subsequently rushed to the Georgetown Public Hospital, where the teen was pronounced dead on arrival. McCalman was admitted to the hospital after he sustained broken bones.
The truck driver fled the scene.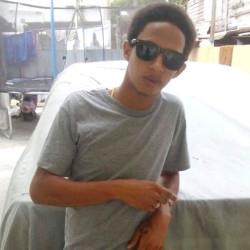 According to an eyewitness, both the truck and the motorcycle were speeding when they collided. "I don't know who is wrong 'cause both of them were speeding. The bike was speeding through Pike Street and the Tacoma tek the turn real rash and that's how they end up into each other," the witness, who asked not to be named, said.
Eon Bollers, the brother of the dead teen, told Stabroek News that the youths were making their way home when the accident occurred.
"I don't know where they went but I know they were coming home. What I hear was that they were going towards Sheriff Street when the other vehicle made a quick turn and dashed into the street [Pike Street] and cut them off and that's when they slammed into the vehicle," Bollers said.
He said he was told that the truck driver exited the vehicle but quickly dashed back inside and fled after he noticed the severity of the injuries that the youths sustained.
"He [Travis] got the brunt of the damage because he was in front and the cousin wasn't so bad, so after the accident he rush to him and tried to help him and he saw the driver come out and then escaped," he noted.
Eon Bollers took to Facebook yesterday to appeal for assistance in locating the driver of the pick-up. "Help locate the guy that killed my little brother last night on Sheriff Street. According to witnesses a white Tacoma vehicle hit him on Sheriff and Pike Street next to GR taxi service, came out looked at him and then proceeded to drive away. Anyone with any information on the culprit can inbox or contact me on 672-4695 or the nearest police station," he wrote.
Around the Web