Patrick Anthony Balgobin yesterday pleaded not guilty to murdering Rudolph Moonsammy when his trial began before Justice Jo-Ann Barlow and a 12-member jury at the High Court, in Georgetown.
The particulars of the indictment against Balgobin state that between June 7th and June 10th, 2010 in the country of Demerara, he murdered Moonsammy, called 'Ralph.'
In her opening address, Prosecutor Tuanna Hardy said that on June 7th, the deceased was involved in a quarrel with Balgobin, who was his employee.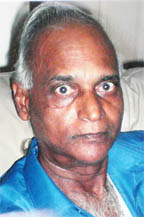 She said that the two lived in the same yard where the misunderstanding started and that Balgobin had followed Moonsammy to a dam, where he dealt him a blow with a piece of wood, which broke.
After the wood broke, the prosecutor said that the accused then armed himself with a cutlass, with which he chopped the deceased about the body.
The court heard that Moonsammy managed to crawl back to his home, where he was discovered by neighbours. He was rushed to the hospital, where he succumbed three days later.
Testifying at the commencement of the trial yesterday was Detective Corporal Morris Harry, who is attached to the Criminal Investigations Department of the Parika Police Station.
He recalled visiting Moonsammy's Lot 3 St. Lawrence, East Bank Essequibo home on June 8th, where he had been found.
Harry said he visited the scene in the company of the accused and another rank.
According to the witness, as he examined the scene, he saw what appeared to be bloodstains in Moonsammy's yard as well as on the walls and doors of his kitchen, bedroom, his bed and in the lower flat of his house.
At the time of his death, Moonsammy, 73, managed a poultry farm.
The trial continues on Monday morning at 9.
The state's case is led by prosecutor Diana Kaulesar, in association with Hardy. Meanwhile, Balgobin is being represented by defence attorney Maxwell McKay.
Around the Web